A high-profile corruption case, known as China's largest "selling official posts" scandal, was heard Tuesday in Beijing.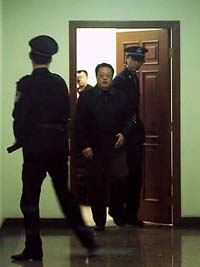 Ma De (center), a senior official in Northeast China's Heilongjiang Province, is escorted to a court for the hearing of a high profile corruption case in Beijing March 22, 2005. [newsphoto]


The defendant, Ma De, a senior official in Northeast China's Heilongjiang Province, has been charged with taking 17 bribes amounting to more than 6 million yuan (US$726,000) between 1992 and 2001.

According to well-informed sources, more than 260 government officials are alleged to have connections with Ma's case, including Tian Fengshan, former minister of land and resources, and Han Guizhi, former chairwoman of the Heilongjiang Provincial Committee of the Chinese People's Political Consultative Conference (CPPCC).

Ma, 56, is the former secretary of the municipal committee of the Communist Party of China (CPC) in the poverty-stricken city of Suihua.

Ma's arrest sent a shockwave through the city's political class as more than half of the local officials were allegedly involved.

Ironically, the place where China's biggest political scandal took place is home to about 460,000 people living below the poverty line.

The majority of the bribes Ma is alleged to have accepted were offered by senior officials, including county heads and leading officials of government departments under Ma's jurisdiction, who wanted to be promoted to higher posts, the public prosecutors said.

For instance, Wang Xuewu, who formerly served as the deputy CPC chief of Hailun, a county-level city under the administration of Suihua, allegedly offered Ma a bribe of 500,000 yuan (US$60,000) in November 2000.

Just a few months later, Wang was promoted to the top position in another county under Suihua.

Zhang Zhongyi, who previously was a lowly branch chief of the Suihua Municipal Administration Bureau, is also said to have demonstrated the power of money in his official career.

Zhang was promoted to the bureau's directorship soon after he is allegedly to have offered 100,000 yuan (US$12,000) to Ma.

Ma also stands accused of taking bribes from several business people who wanted to net profits in Suihua, said the prosecutors.

The largest alleged bribe came from Shen Baichen, a construction contractor who is said to have offered Ma 2 million yuan (US$242,000) in early 1999.

Shen later won the contract to build the local television centre.

At Tuesday's hearing at Beijing No 2 Intermediate People's Court, Ma did not raise any objections to the charges.

His defence, Qian Lieyang, said Ma should receive a lighter punishment as he had exposed information about other allegedly corrupt individuals.

Another corruption case is due to be heard in the same court Wednesday with links to a senior official who is said to have close connections with Suihua.

The official is the former director of the Environmental Protection Bureau of Heilongjiang, Wang Shenyi.

Wang allegedly took bribes amounting to 2 million yuan (US$242,000) between May and August 2000 while serving as mayor of Suihua.

The trial of Han Guizhi, former head of the CPPCC Heilongjiang Provincial Committee, who has allegedly accepted 800,000 yuan (US$97,000) from Ma, will be heard in Beijing soon.

Han allegedly took bribes totalling 9.5 million yuan (US$1.1 million) while serving as head of the Organization Department of the CPC Heilongjiang Provincial Committee.