Five steps to better Sino-US trade links
By Yan Yang (China Daily)
Updated: 2005-03-22 09:00
Sino-US trade ties will continue to be enhanced as long as the two countries, out of strategic and long-term considerations, can deal with five key issues, experts said.
Wang Li, an expert from the Chinese Academy of International Trade and Economic Co-operation pointed out that trade relations between the two major nations will continue to enjoy sustained and rapid growth thanks to the highly complementary nature of the two economies.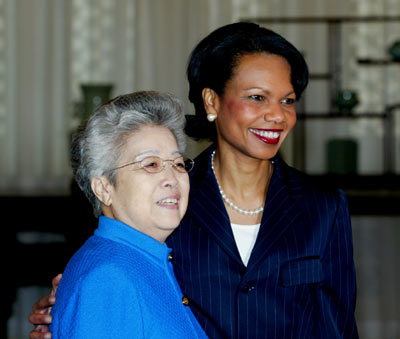 Chinese Vice-Premier Wu Yi (L) meets U.S. Secretary of State Condoleezza Rice (L) at the Zhongnanhai in Beijing March 21, 2005. [newsphoto]
And this mutually beneficial situation is not only set to continue, but is likely to become more prominent, Wang pointed out.
Given that there will not be any major changes to Washington's China policy during the second Bush administration, the following five areas will be the most sensitive points for Sino-US trade relation for many years, Wang said.
First, US export controls. The US Government's restrictions on high-tech exports to China are a major issue impacting on the trade balance between the two nations, Wang pointed out.
The restriction has been in force ever since the United States listed China in 1979 upon the introduction of the Export Administration Act.
But China has already become a major global market for high-tech products, and is soon expected to become the largest consumer of US high-tech products and services, Wang added.
High-tech products that China requires include computers, office equipment, household and industrial electronics, medical equipment, optical electronics, semiconductors and electronic components.
In particular, China's telecom, computer and semiconductor industries - which will enjoy growth of 20 to 40 per cent over the next 15 years - will offer US firms massive business opportunities.
Wang said that technology transfer is important as it will benefit China's development and US companies investing in the country.
China's accession to the World Trade Organization has offered greater export opportunities to US high-tech companies and cut their market access costs to China, Wang added.
And US firms will have both improved control of sales and the end users of their high-tech products, thanks to China granting trading and distribution rights to more foreign firms, even US firms that have no manufacturing in China, he said.
The US Government has long cited uncertainty over the end users of high-tech products as the reason for blocking exports of these goods to China.
Zero tariffs on imports of high-tech goods will enable these products to enter China from a number of countries, said Zhang Luqing, from the University of International Business and Economics.
In line with its pledges to the World Trade Organization (WTO), China will lower its tariffs on semiconductors, computers and other high-tech products to nil within five years.
Zhang said: "The US Government should reconsider its technology transfer policy towards China, when the latter has gained wide access to high-tech products it needs and has greatly improved its own R&D capability.".
Second, US recognition of China's market economy status (MES).
The MES issue is sensitive and complex, going beyond economics, says Wang.
China has become a major challenger to the United States as a result of the former's rapid economic development and the widening US trade deficit with China. Some US politicians have also sought to the containment of China due to its independent foreign policy and different political and economic systems.
China was categorized as a "non-market economy" when it joined the WTO in 2001, despite having established a market-oriented economic structure. This has placed China at a disadvantage in terms of trade disputes such as anti-dumping cases. Political factors serve to complicate issues such as China's market economy status, and some other economic and trade problems with the United States, Wang said.
Zhang added that, apart from political motivation, US industries have exaggerated the role played by China in their losses.
For example, job losses in the United States are normally blamed on China's currency policy, and given as an excuse for the higher manufacturing costs of domestic industries.
At the 15th session of the China-US Joint Commission on Commerce and Trade (JCCT) in April last year, China and the United States agreed to establish a working group within the framework of the JCCT to deal with China's market economy status.
This year's JCCT meeting is expected to take place in China next month.
Third, anti-dumping and anti-subsidy measures.
The US trade deficit with China hit a record high of US$140 billion, according to US figures.
The Bush administration has turned to various measures including anti-dumping in order to curb a large amount of imports. While China, noting the US concerns, is willing to narrow the trade gap, Wang said.
China lowered its export refund rate and sent purchasing delegations to United States to buy US$1.59-billion worth of soybeans and equipment, but the US Government greeted these moves with a frosty reaction, Wang said.
By defining China as a "non-market economy," the US trade authorities have long refused to recognize the nation's domestic production costs and instead use the production costs of a surrogate country to calculate Chinese exports' so-called "normal value." The use of a surrogate, usually an emerging economy such as India, Turkey or Mexico, where material and labour costs are much higher than in China, often means local exports are deemed to be sold below their normal value, more commonly referred to as "dumping."
As a result, anti-dumping lawsuits are widely viewed by the US domestic industry as the most effective means of limiting imports from China, with the nation being the major target of US anti-dumping and anti-subsidy investigations.
According to the US International Trade Commission, seven of the 10 anti-dumping cases in the second half of last year involved China.
The US Government collected US$330 million in anti-dumping duties from the 10 cases, said Zhang.
"Some 30 per cent of the anti-dumping duties, about US$97 million, come from Chinese companies, a year-on-year growth of 12.5 per cent," Zhang pointed out.
The US Byrd Amendment stipulates that anti-dumping duties will be distributed among US firms filing the cases.
Fourth, the US trade deficit with China.
The large difference in statistics led the two countries to have a different view of their unbalanced bilateral trade, Wang said.
According to US statistics, the United States has had a trade deficit with China since 1983, and it reached US$100 billion in 2000. But according to Chinese statistics, China has only had a trade surplus with the United States since 1993, and it has only reached US$29.7 billion.
The United States, based on its statistics being exaggerated by at least 30 per cent, believes that China accounts for a rather large portion of its foreign trade deficit, Wang said.
"For that reason, the US side has continuously erected barriers against China, which have caused a great deal of trade friction," he added.
Fifth, IPR protection.
This problem remains between China and United States, but China has promised to strengthen the fight against piracy and counterfeiting, Wang said.
IPR protection has led to major trade friction between the two countries. In 1994, the United States, accusing China of being weak in protecting IPR and controlling IPR infringement, listed China as a "key country" in its Article 301 and took retaliatory measures against China. China then launched retaliatory trade action against the United States.
William Lash, US Assistant Secretary of Commerce for Market Access and Compliance, warned China to enhance its protection of intellectual property rights before ending his visit to China last August.
Troubled by local governments' poor enforcement of IPR protection, China then reorganized 500,000 civil servants, directed by Vice-Premier Wu Yi, to safeguard the intellectual property rights of both foreign and domestic firms.