Beijing Olympic venues shape up for 2008
By Lei Lei (China Daily)
Updated: 2005-03-22 07:24
The National Olympic Stadium dubbed the "bird's nest" because of its unique and unusual design will start the process of becoming a reality this summer.
The structure, which had to implement major changes to satisfy safety and financial issues, will start to take shape in June, revealed officials from 2008 Venues Construction Headquarters in Beijing.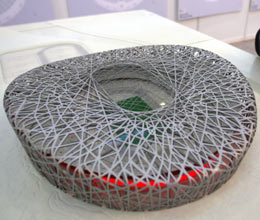 Bird's Nest" is jointly designed by Herzog and De Meuron Architekten AG, Switzerland, and China Architecture Design Institute. [newsphoto]

"According to the schedule, the construction work of the centre area of the National Stadium will reach the ground level in June," said the construction officials.

"The building of the steel framework will start in the middle of September," he added.

The National Stadium will host the opening and closing ceremonies for the 2008 Beijiing Olympic Games.

Construction began in December 2003, but was suspended last July for revamp of the design.

Resumed last December, the design layout has been changed to integrate more safety, quality, function, time and cost factors.

A sliding roof has been ruled out.

"The main frame of the stadium is scheduled to be finished in next May and the embryonic form of the 'bird's nest' could be seen from around next August or September," added the official.

The National Swimming Centre, known by its nickname the "water cube," is also making headway.

"The concrete construction of the 'water cube' has started from last October and will be finished this June," said Li Aiqing, general manager of the Beijing State-owned Assets Management Corp Ltd, the proprietor of the venue.

"With the outer structure being finished within the next year, the overall construction will be finished by September of 2007, followed by a series of testing operations and testing events."

In order to secure a construction process free of corruption, the Olympic projects have a supervision group led by Huang Shuxian, vice-minister of Ministry of Supervision.

He inspected the two venues yesterday.

While receiving the supervision group, Liu Zhihua, head of the 2008 Venues Construction Headquarters, promised to be "honest in performing their official duties and to carry this principal through to the end."




| | |
| --- | --- |
| | |
| China qualifies for next round at world youth championship | |

| | |
| --- | --- |
| | |
| Brazil training for Confederations Cup | |

| | |
| --- | --- |
| | |
| Golf balls painted with Chinese opera figures | |
Today's Top News
Top Sports News

Powell: China is not military threat to the US




Flood victims' families to get US$18,200 each




EU urged to lift 16-year China arms embargo




'Green Olympics' eyed for year 2008 Games




China steps up foreign exchange efforts




Energy saving key to growth - document