China's economy to grow 8% annually from 2006 to 2010
By Xu Dashan (China Daily)
Updated: 2005-03-21 06:45
The Chinese economy is expected to grow at an annual rate of 8 per cent during the period of the 11th Five-Year Plan (2006-10).
State Council Development Research Centre Deputy Director Sun Xiaoyu made this remark at the opening ceremony of the China Development Forum 2005, which opened yesterday at Beijing's Diaoyutai State Guesthouse.
"That means China will achieve its goal of quadrupling its gross domestic product (GDP) from 2000 to 2020 ahead of schedule," he said.

Nobel Prize-winning economist Robert Mundell speaks during the China Development Forum 2005 in Beijing March 20, 2005. The annual high level forum focusing on China in world economics is held in the national guest house with the attendance of more than 40 representatives of multilateral organizations, international scholars and foreign government officials. [Reuters]

Vice-Premier Zeng Peiyan said China's economy has been on an upward growth trend.

Market forces are strong and companies' vitality has increased, he said.

Barry Naughton, a professor from the University of California at San Diego, said China enjoys far greater growth potential than other economies.

"The Chinese economy is facing an unprecedented combination of factors that build on the high investment rate and reinforce each other to create rapid productivity growth in a broad range of economic sectors," he said.

Speaking before the formal opening of the forum, National Bureau of Statistics spokesman Zheng Jingping said China's economy is capable of maintaining an annual growth rate of 8 to 9 per cent over the next five to 10 years.

The nation's future economic development will continue to be fuelled by the rapid growth of fixed asset investment, backed by the high savings rate and a major inflow of foreign direct investment.

Political and social stability, improvements in labour productivity due to increased opening and reform, and technological advances, will also play an important role in the economy, he said.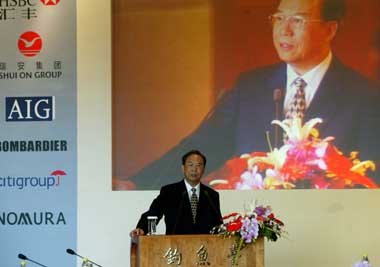 Vice-Premier Zeng Peiyan delivers a speech at the China Development Forum in Beijing March 20, 2005. [newsphoto]

Han Wenxiu, a senior official at the National Development and Reform Commission, agreed that China's economic success story witnessed over the past two decades will continue in the coming 20 years.

China's economy enjoyed average annual growth rates in excess of 9 per cent over the past two decades.

"China has reasons to maintain rapid economic growth over the next 20 years, although the rate may decline slightly," said Han, the deputy director of the commission's Department of General Affairs.

This was mainly because of the accelerated urbanization process and the upgrading of the consumption structure from small items such as TVs and washing machines to large items such as houses and cars, he pointed out.

Accelerated industrialization and local governments' strong desire to develop their economy will be the backbone of future economic growth, he pointed out.

Zhang Xiaoji, a senior researcher at the State Council Development Research Centre, told an earlier press conference that by the end of 2010, the country's gross domestic product (GDP) will reach US$2.3 trillion or US$1,700 per capita based on prices and exchange rates in 2000.

"By 2020, the nation's GDP will reach US$4.7 trillion, or US$3,200 per capita," said Zhang, director of the centre's Foreign Economic Relations Research Department.

China's overall GDP ranks sixth in the world after decades of rapid economic development, with the nation's per capita GDP exceeding US$1,200.

The country also has the world's second-largest foreign exchange reserve.

With the continuous improvement of the investment climate, China has also become one of the most attractive investment destinations.

"China has basically removed the capital bottleneck for future development," Zhang said.

The technical conditions for future development was also better than ever, he said.

China's industrial structure underwent huge upgrading as the nation's economy expanded, Zhang noted.

The country's manufacturing industry grew by an average annual rate of 10.3 per cent during the period of the 10th Five-Year Plan (2001-05), accounting for 52.2 per cent of China's GDP in 2003.

"The industrial structure is evidently characterized by technical upgrading," he said. "The proportion of the high-tech sector in overall industrial output rose from less than 10 per cent in 1993 to more than 20 per cent in 2002."

The per capita income of urban and rural residents grew by annual averages of 9.2 per cent and 5.2 per cent from 2001 to 2005, Zhang said.

This improved standard of living allowed for increased spending on healthcare, transportation, telecommunications, education, entertainment and housing, rather than just food and clothing, he said.

In recent years, people have even begun to spend more on expensive items such as houses and cars.

"The upgrading of the consumption structure will cause an upgrading of the industrial structure," he pointed out.

Zhang noted that China's gradual shift from a planned economy to a socialist market economy greatly promotes productivity.

Along with China's integration into the global economy, the nation will further increase the levels of capital, advanced technology and management expertise introduced from developed countries, to expand its development, he said.

However, "good prospects don't mean plain sailing," Zhang said.

China will face a number of obstacles in the course of its future economic development.

The nation's resources and the environment are coming under greater pressure as China strives to maintain sustainable development.

The country is expected to witness a period of rapid industrialization over the next 15 years, which means the country will consume a huge amount of resources.

But China has far fewer resources on a per capita basis than the global average.

"The environment will pay the prices unless the country shifts from the current resource-intensive model of economic growth," Zhang said.

China's future economic growth will also be challenged by poor growth quality, unbalanced development and uncertain global economic factors.

China's market economy is far from perfect, resulting in poor quality growth.

The gaps between different regions, and rural and urban areas, and the income gap between different groups will also have an impact on social stability.

(China Daily 03/21/2005 page11)




Today's Top News
Top China News

China's economy to grow 8% annually from 2006 to 2010




Rice: US observes one-China policy




Farmers to choose new village committees




Mine gas explosion kills 60 in Shanxi




China, US work to forge balanced trade




Annan unveils sweeping UN reforms