Annan unveils sweeping UN reforms
(Agencies)
Updated: 2005-03-21 07:54
UNITED NATIONS - UN Secretary General Kofi Annan unveiled his blueprint for sweeping changes to the United Nations and the international system of security in place since World War II.
Driven in part by the bitter divisions over the US-lead war in Iraq, which he said had brought the world to a crossroads, Annan proposed a vast overhaul that he wants national leaders to agree on this year.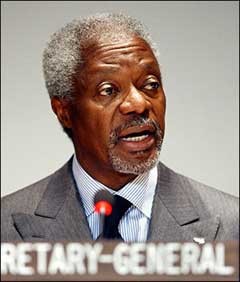 United Nations Secretary General Kofi Annan unveiled his blueprint for sweeping changes to the United Nations and the international system of security in place since World War II. [AFP]

Annan's report calls to widen the membership of the Security Council, the UN's top organ for international security, and asks it to fix guidelines that would determine when nations may legally go to war.

It asks nations to agree on a proposed definition of terrorism, which has been disputed for decades, establish a new human rights council and commit to ambitious goals on development, slashing poverty and building democracy.

"In an era of global interdependence, the glue of common interest, if properly perceived, should bind all states together in this cause, as should the impulses of our common humanity," Annan said in the report.

"After a period of difficulty in international affairs, in the face of both new threats and old ones in new guises, there is a yearning in many quarters for a new consensus on which to base collective action," the UN chief said.

"This is a deal that the secretary general is offering the world," Annan's chief-of-staff Mark Malloch Brown told reporters at UN headquarters in New York.

"It's not an a la carte package," Malloch Brown said. "We believe the whole thing has to hold together."

World leaders will hold a summit here in September, by which time Annan is hoping that most of the changes -- including those contentious issues that have defied agreement for years -- will be hammered out.

"If it doesn't come to a head by that (summit), the fear is that it just drifts into another period without a deadline," Malloch Brown said.

The major changes would have to be agreed by two-thirds of the UN's 191 member nations as well as by the five veto-wielding permanent Security Council members -- Britain, China, France, Russia and the United States.

It remains unclear how much political will exists for substantive change but Malloch Brown insisted that momentum has been growing for sweeping reforms of the international system.

"I think there is a huge support for the idea that it's time for a bold and practical deal of this kind," Malloch Brown said.

Annan put forward two options for expanding Security Council membership from the current 15 to 24 nations -- one of which would add new permanent members -- and called for the creation of a peace-building commission.

He also issued a call for a new human rights council to be elected by member states as part of an overall bid to stress that development, health and rights are essential factors in the freedom and security of peoples and nations.

"Even if he can vote to choose his rulers, a young man with AIDS who cannot read or write and lives on the brink of starvation is not truly free," Annan wrote in his introduction to the report.

"Equally, even if she earns enough to live, a woman who lives in the shadow of daily violence and has not say in how her country is run is not truly free," he said.

Though in the works for more than a year, the report comes with the United Nations buffeted by a series of high-profile scandals that has focused the spotlight on UN mismanagement.

It also comes with Security Council nations at a deadlock over tackling the crisis in Darfur, where UN officials say as many as 180,000 people may have died as a result of a fighting between the Sudanese government and rebels.

"It's reform to give the organisation the authority and means to take on Darfur," Malloch Brown said, arguing that the changes have to be made now to enable the United Nations to take on the world's challenges.

"There is this sort of now-or-never sense," Malloch Brown said. "The status quo isn't acceptable."




Today's Top News
Top World News

Rice reaffirms US observes one-China policy




Farmers to choose new village committees




Mine gas explosion kills 60 in Shanxi




8% annual GDP growth between 2006-10




Annan unveils sweeping UN reforms




Commuting to school: A Tale of Two Cities