Sudan 1 found in 3 more KFC menu items
(Xinhua)
Updated: 2005-03-20 21:05
Beijing Municipal Food Safety Office found Sudan 1, a carcinogenic food coloring, on Friday in food served at a KFC outlet in the city's Chaoyang District, the office said Saturday.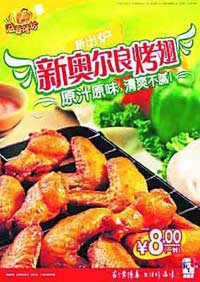 All KFC outlets in China have stopped selling New Orleans roast chicken wings and chicken hamburgers Wednesday after the cancer-causing food coloring, Sudan I, was found in the sauce Tuesday. [file photo]

The banned dye was found in spice pickle powder, used in three KFC foods: spiced drumsticks, spiced chicken wings and strong chicken-flavored popcorn (KFC has something called popcorn chicken), the office said.

The Food Safety Office and the Beijing Entry-Exit Inspection and Quarantine Department have asked KFC to suspend sales of the three products. The three foods can be sold again only after they pass inspections.

Last Wednesday, KFC removed New Orleans wings and drumstick burgers from the menu at more than 1,000 Chinese outlets, and destroyed all tainted products, after discovering a supplier had used the Sudan 1 dye in ingredients.

The Hefei Municipal Food Safety Department in east China's Anhui Province also checked that city's KFC outlets, and the seven outlets in the city were also forbidden to sell foods found to be tainted with Sudan 1.

Sudan 1, an industrial dye used in petrol and shoe polish but banned from food, triggered a food scare across much of Europe last month.

China launched a severe food safety inspection when Sudan I was detected in a pepper sauce brand, Meiweiyuan, produced by the Guangzhou-based Heinz-Meiweiyuan Food Co., Ltd.

KFC (Kentucky Fried Chicken) first entered China in 1987, one of the first western fast food chains to do so. It now has 1,200 outlets in 260 cities across China.




Today's Top News
Top China News

Hu to Rice: Taiwan secessionists harmful




Death toll rises to 59 in Shanxi coal mine blast




Sudan 1 found in 3 more KFC menu items




Japanese earthquake kills 1, injures 381




Thousands in Taipei protest shooting




China to implant ID chips in pandas