Death toll in Shanxi mine blast rises to 42
(Xinhua/Agencies)
Updated: 2005-03-20 13:38
The death toll in the Shanxi mine blast has risen to 42, with 27 others trapped, the CCTV reports Sunday.
The blast occurred around noon on Saturday at the Xishui colliery in Pinglu, a district in the city of Shuozhou in Shanxi province.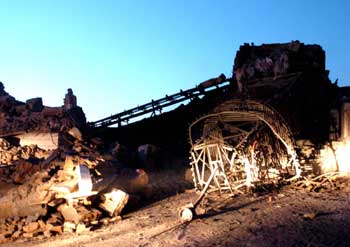 An explosion at the Xishui coal mine in Shuozhou, Shanxi Province, has killed 17 miners and trapped over 50 workers underground on March 19, 2005. [Xinhua]

Forty-nine miners were working in the shaft where the explosion occurred and 22 others were also working at the nearby Kangjiayao mine when the blast caused a wall to collapse, it said, adding that two people have been rescued.

Shanxi provincial governor Zhang Baoshun has arrived at the scene to direct rescue and carry out investigation work, Xinhua news agency said.

Police detained the four owners of the Xishui coal mine.

Built in 1993, Xishui Mine is licensed with an annual output of 150,000 tons of coal. But the mine was ordered to suspend production after safety problems last November, said an official with the provincial supervision office of coal mine production.

"In defiance of the order, however, mine owners have restarted production this year," said the official.

The other coal mine, Kangjiayao, that fell the victim of Saturday's explosion, is a normal mine with governmental approval for production.

The provincial government has ordered the suspension of production in mines that fail to meet safety measures.

Shanxi province is China's leading coal producing area and its government published regulations earlier this month requiring coal mine officials to carry out regular underground inspections at specified intervals.

In China, more than 6,000 miners died in accidents last year.

On Friday, 19 coal miners were confirmed dead after an explosion the day before at the Sulongsi mine in Fengjie county of southwestern Chongqing municipality.

In the worst mining accident in China's recent history, 214 miners were killed after a gas blast on February 14 at the Sunjiawan pit in Fuxin city in northeastern Liaoning province.

Earlier this month, Premier Wen Jiabao pledged to spend 3 billion yuan (US$362 million) on a safety overhaul of state-owned coal mines, saying officials must learn "a bitter lesson" from the heavy human losses.

"We must have a strong sense of responsibility to the people and truly make coal mining safer," said Wen in a work report to the country's top legislature, the National People's Congress.

In an attempt to tackle the industry's appalling safety record, the State Development and Reform Commission said 11 ministries and institutes under the central government have established a coordination office to oversee safety assessments for mines across China.

But China's economic boom has fueled a heavy demand for energy and the country's mines work well over capacity as coal prices have sky-rocketed.

Crucial parts of the country are facing power shortages exacerbated by 20 years of robust economic growth.




Today's Top News
Top China News

Coal mine explosion kills 17, traps 52 in Shanxi




Thousands in Taipei protest shooting




China to implant ID chips in pandas




Pakistan explosion kills 27, injures 18




Rice to kick off whirlwind China tour




Protests in US, Europe as Bush defends war