Pakistan explosion kills 27, injures 18
(Agencies)
Updated: 2005-03-20 09:19
A bomb exploded Saturday as minority Shiite Muslims congregated at a shrine in a remote town in southwestern Pakistan, killing at least 27 people and wounding 18, police said.
Thousands of worshippers were at the shrine of a Shiite saint near the town of Naseerabad, about 210 miles south of Quetta in restive Baluchistan province, when the bomb went off outside, said Mubarak Ali, a local police official.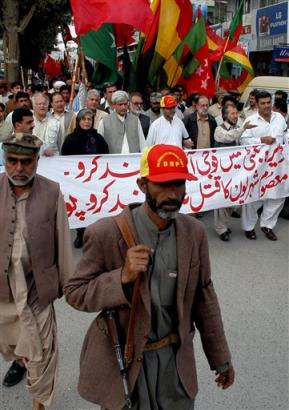 Leaders and workers of an alliance of Pakistani opposition parties take part in a rally to protest against killings of Baluchistan's tribesmen, in Quetta, Pakistan on Saturday, March 19, 2005. Thousands of government workers and their families evacuated a remote town in southwestern Pakistan on Saturday, a senior official said, amid fears of renewed fighting between renegade tribesmen and government forces after clashes this week left at least 30 people dead. [AP]

There was no immediate claim of responsibility and no indication the attack was linked to clashes between renegade tribesmen and government forces at a town elsewhere in southwestern Baluchistan that left at least 30 people dead this week.

"It was a powerful bomb. There was blood and body parts everywhere," Mehrab Khan, another police official, told The Associated Press.

"Right now people are angry. They are wailing and crying. Some of them have blocked roads in the town and we are trying to control the situation."

Dr. Badur at the Civil Hospital said that 27 people were killed and 18 injured, nine critically. All the victims were men. Ali gave the same toll.

Pakistan has a history of sectarian violence, mostly blamed on rival majority Sunni and minority Shiite extremist groups. About 80 percent of Pakistan's 150 million people are Sunnis and 17 percent are Shiites.

Most of the Muslims live together peacefully, but small groups of militants on both sides stage attacks.

Also late Saturday, two homemade bombs went off in a residential area of the town of Turbat, about 400 miles southwest of Quetta, wounding four people, local police official Naqeeb Ullah said. Police do not know who carried out the attacks, he said.

In another area of Baluchistan, thousands of people fearing the collapse of a shaky cease-fire escaped a remote town where fighting this week between Pakistani troops and renegade tribesmen left at least 30 people dead, officials said.

Thursday's fighting in Dera Bugti, which lies about 30 miles from Pakistan's main gas fields, was an alarming escalation of a low-level tribal rebellion in Baluchistan, the country's poorest province.

A parliamentary committee has been set up to examine the grievances of the tribesmen in the province, which was roiled by insurgency in the 1970s. Tribesmen are demanding more returns from the natural gas extracted from their territory and resent the army's moves to set up garrisons in the region.

As government workers and their families fled the area in vehicles under paramilitary escort, ethnic nationalists accused the army of preparing a major offensive and warned they could turn the province into a "graveyard" for soldiers.

Interior Minister Aftab Khan Sherpao told reporters in the capital, Islamabad, that fighters loyal to the local tribal leader were digging in around Dera Bugti and destroying roads. He maintained the government wanted to resolve the situation through talks.

The two sides agreed to a cease-fire early Friday after 16 hours of clashes. But on Saturday all 3,300 government employees and their families — who are not from the local Bugti tribe — evacuated the town, which has a population of about 84,000 and is 185 miles southeast of Quetta.

Abdul Samad Lasi, the top government official in Dera Bugti, said at least 1,500 armed Bugti men have taken up positions in mountains outside the town and were waiting for an order to attack. He cited intelligence and security reports.

He said the evacuation was prompted by a warning from tribal chief Nawab Akbar Bugti on Saturday that he could not guarantee the government employees' safety.

The government has asked paramilitary forces not to initiate fire but to defend government installations, security official Col. Mohammed Furqan said.

In Quetta, the provincial capital, about 3,000 supporters from ethnic Baluch nationalist parties staged a protest Saturday, accusing the government of "ruthless firing" against tribesmen and concealing the deaths of civilians. They carried black flags and wore black arm bands.




Today's Top News
Top World News

Coal mine explosion kills 17, traps 52 in Shanxi




Thousands in Taipei protest shooting




China to implant ID chips in pandas




Pakistan explosion kills 27, injures 18




Protests in US, Europe as Bush defends war




Banker calls to improve trade policy