Protests in US, Europe as Bush defends war
(Agencies)
Updated: 2005-03-20 09:19
Thousands of protesters against the war on Iraq marched in Europe and the United States on Saturday, but US President Bush said the invasion just two years ago shielded the world from "grave danger."
"George Bush ... Uncle Sam. Iraq will be your Vietnam," chanted 45,000 protesters winding through central London as they put down a black cardboard coffin with the slogan "100,000 dead" scrawled on the lid outside the U.S. Embassy.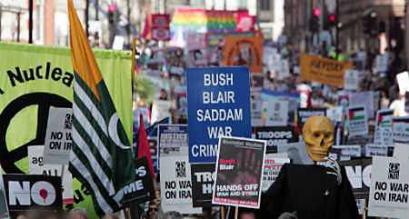 Demonstrators hold up placards during an anti-war demonstration in central London to mark the second anniversary of the start of war in Iraq, March 19, 2005. [Reuters]
The protesters, marking the second anniversary of the invasion that toppled Saddam Hussein), called on Bush and his ally, British Prime Minister Tony Blair, to pull their troops out of Iraq and restore sovereignty to its people.
Some 10,000 people marched through the center of Rome, waving anti-war banners and protesting against the Italian troop presence in Iraq. Protesters also marched in Madrid and Barcelona.
About 10,000 protesters attended a rally in Istanbul, Turkey, and smaller demonstrations were held in Ankara and Izmir.
NEW YORK, CHICAGO, SAN FRANCISCO
Thousands gathered in New York's Central Park and police said they arrested 36 protesters including 27 in Times Square as anti-war groups held rallies throughout the city.
In midtown Manhattan, 350 people marched silently along 42nd Street, flashing peace signs and carrying 50 cardboard coffins.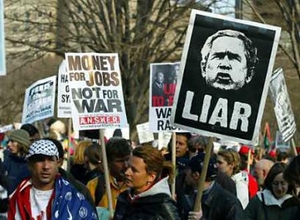 Anti-war demonstrators protest in New York's Central Park protesting the second anniversary of the War on Iraq March 19, 2005. Demonstrators from several peace and social justice groups marched to various United States military recruiting stations throughout New York city disrupting the recruiting process. [Reuters]
The crowd in Central Park was much smaller than last year, when an estimated 100,000 people marched in New York City.
"I think Bush's re-election took the steam out of the anti-war movement," said activist and public defender Michael Letwin, 48.
In downtown Chicago, hundreds of protesters held a mostly peaceful rally. Police corralled demonstrators who tried to march down busy Michigan Avenue in defiance of a city permit requiring them to use another street.
Two people were arrested for what police said was failing to use the designated route, and protesters later congregated in a nearby four-block square, shouting "Let us march!"
In San Francisco, a few thousand anti-war protesters marched to city hall in rainy weather carrying signs that said "Beat Back the Bush Attack" and chanting "We need jobs, health care and education, not more war and occupation."
Later local activists such as the actor Danny Glover gave speeches at a rally police said was much smaller than the previous year due to the rain. Police reported no arrests.
SUPPORT FROM BLAIR
Bush made an uncompromising defense of the invasion in his weekly radio address: "On this day two years ago, we launched Operation Iraqi Freedom to disarm a brutal regime, free its people, and defend the world from a grave danger."
"Today we're seeing hopeful signs across the broader Middle East," he said. "The victory of freedom in Iraq is strengthening a new ally in the war on terror and inspiring democratic reformers from Beirut to Tehran."
The organizers of the London protest, the Stop the War Coalition, said they had tried but failed to deliver a letter to the U.S. Embassy insisting that Bush and Blair pull their forces out of Iraq.
Blair said earlier in the week that he had no intention of ordering an early withdrawal of British troops, but Italy, Ukraine, Poland and Bulgaria have recently signaled they are eager to scale down their presence in Iraq.
The majority of Italians are opposed to the presence of 3,000 Italian troops in Iraq -- the fourth largest contingent -- and the recent death of an Italian intelligence officer, killed by U.S. troops while leading a hostage to freedom, has intensified popular hostility to the occupation.
POLL MIXED
U.S. public opinion appeared mixed. In a Washington Post-ABC News poll released on Wednesday, 53 percent of Americans said the war was not worth fighting, but a majority said they were confident that Iraqi leaders can create a stable government.
The United States has some 150,000 troops in Iraq, followed by Britain with 8,600. An insurgency that uses suicide, car and roadside bombings continues to kill U.S. and allied troops and larger numbers of Iraqi civilians.
Bush cited a threat from Saddam as justification for a war that faced widespread and lasting opposition in many countries in Europe and the Middle East.
"We knew of Saddam Hussein's record of aggression and support for terror. We knew of his long history of pursuing, even using, weapons of mass destruction, and we know September 11 requires our country to think differently," he said.
The political changes in Iraq since Saddam's overthrow, and the movement toward democratic reforms elsewhere in the Middle East have made the American people safer, he said.
Today's Top News
Top World News

Coal mine explosion kills 17, traps 52 in Shanxi




Thousands in Taipei protest shooting




China to implant ID chips in pandas




Pakistan explosion kills 27, injures 18




Protests in US, Europe as Bush defends war




Banker calls to improve trade policy