Tens of thousands in Taipei protest shooting
(Xinhua)
Updated: 2005-03-19 22:24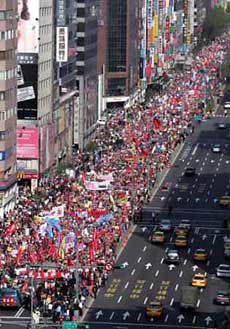 Thousands rally in the streets demanding the truth behind the shooting of Chen Shui-bian one year ago, which opposition parties said might have been staged to win votes for the incumbent in the last election, in Taipei March 19, 2005. [Reuters]

About 100,000 people rallied in Taipei Saturday, to demand the truth about the mysterious shooting of Taiwan leader, Chen Shui-bian, one year ago.

During the rally, organized by the non-governmental body, the March 19 action committee, demonstrators marched through streets to show their frustration about the shooting of Chen Shui-bian and his running mate Annette Lu.

The pair were slightly injured while campaigning in an open-roof jeep in Tainan on the eve of the 2004 Taiwan leader poll. Some have said that the shooting was actually a premeditated ploy on Chen's behalf to win sympathy votes.

Protesters gathered before the Taiwan leader's office building, carrying banners reading "no truth, no democracy."

Lien Chan, Nationalist or Kuomintang party chairman who lost the election to Chen the day after the shooting by a 0.2 percent margin, said at the rally that the truth behind the shooting has not been established.

He said the Taiwan judicial system has "failed to give people justice" and called for the establishment of another investigation committee.

The Nationalists, together with many other parties in Taiwan, set up an investigation committee in October last year and filed two lawsuits to challenge the legitimacy of Chen's election victory, both of which were rejected by Taiwan's judicial authorities.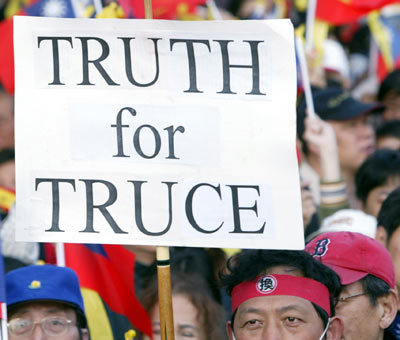 Protesters spell out their points of view as they march through the streets of Taipei. [Reuters]
On Jan. 17, 2005, the committee sent a report to Taiwan's legislature, calling the shooting "maneuver of election" and suggesting the legislature to formulate a bill to oust Chen.
Today's Top News
Top China News

Pak: DPRK ready to return to nuclear talks




EU urged to lift 'outdated' arms embargo




Official on trial for selling high-level jobs




Thirsty countryside demands safe water




Beijing makes a perfect FORTUNE forum




Textile firms to take EU ruling to WTO