Rice to talk North Korea, beef in Japan
(Agencies)
Updated: 2005-03-19 10:03
US Secretary of State Condoleezza Rice arrived in Japan on the fourth leg of her Asian tour, with the close allies set to talk strategy on North Korea but expected to clash over Japan's ban on US beef imports.
On a flight from Islamabad to Tokyo, Rice described relations with Japan as possibly the closest they have ever been.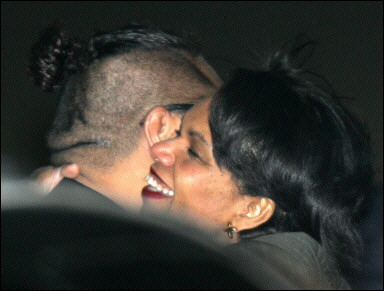 US Secretary of State Condoleezza Rice (R) hugs Hawaii-born former sumo champion Konishiki upon her arrival at Tokyo. Rice arrived in Japan on the fourth leg of her Asian tour. [AFP]

The secretary of state, who will also visit South Korea and China over the weekend before winding up her tour, told reporters that Washington also enjoyed its best-ever relations with Seoul and possibly with Beijing.

"It means that the United States is positioned to play a particularly constructive role in a region that is changing dramatically, where a rising China is both an opportunity for the region and presents some challenges for the region," she said on Friday.

The standoff over North Korea's nuclear weapons drive is a major focus of Rice's first Asian trip since becoming the top US diplomat, with Japan one of five nations that have engaged in the now-stalled negotiations.

Rice is expected to talk to Japanese Prime Minister Junichiro Koizumi and other leaders about ways to bring North Korea back to the table after it lashed out at her on Wednesday and reiterated that the negotiations were off.

The North Korea has cited Rice's description of it as an "outpost of tyranny" as a reason for refusing to talk.

"The North Koreans are trying to change the subject, and I'm not going to let them change the subject," she told reporters on the plane.

"We are going to keep talking about the fact this is about the North Korean nuclear problem."

The secretary of state urged the North to return to negotiations "in a spirit of trying to move forward in those talks."

She reiterated that the US has no intention of attacking the North.

"It is also on the table that because no one inteds to do that, the North Koreans can have security assurances within a multilateral framework and everyone is ready to talk with them about what that might look like."

A bilateral row will cloud Rice's visit. US lawmakers are threatening sanctions against Japan, the top market for US beef imports until a mad cow disease scare, unless it immediately reopens its market.

Japanese officials including Koizumi have said they will not set a deadline for resumption of imports of beef, which were suspended in December 2003 after a cow slaughtered in Washington state was found to have mad cow disease.

Chief Cabinet Secretary Hiroyuki Hosoda, the government spokesman, noted that the United States still banned Japanese beef over mad cow fears even though Japan checks all of its cattle.

"It is not easy to make progress on food safety like this," Hosoda told reporters Friday.

Rice is also expected to discuss proposals to reorient US forces abroad, a controversial plan under which bases in officially pacifist Japan could become a launch pad for US operations in the Middle East and other regions.

Rice and US Defense Secretary Donald Rumsfeld discussed the issue with their Japanese counterparts at a meeting in Washington last month.

The influential Asahi Shimbun national daily said in an editorial that the beef issue seemed to be of paramount domestic importance for US President George W. Bush.

"There are various issues piling up for Japan and the United States to solve, such as North Korea's nuclear weapons problem, transformation of US forces and reconstruction of Iraq. But the first thing written on her notepad is to urge Japan to resume US beef imports," the Asahi said.

"We understand the United States' reasons (for pressuring Japan). But the prime minister cannot lightly respond to Ms. Rice's request, as such a decision would fuel public anger and worsen anti-American sentiment," the Asahi said.

The Nihon Keizai Shimbun reported that the government's Food Safety Commission will hold a month of public hearings about beef imports and then take two or three more months to make the decision, with the ban likely lifted around September.




Today's Top News
Top World News

Banker calls for foreign trade policy improvement




HIV/AIDS proposals announced for 2005




Japan rejects comfort women claims




Beijing slips in mainland top city ranking




Wen talks cooperation with Russia army chief




Israel backs temporary Palestinian truce