Russia, EU leaders reach agreements
(Agencies)
Updated: 2005-03-19 08:51
European leaders formed a united front with Russian President Vladimir Putin on Friday, emphasizing their common position on Iran's nuclear ambitions and pressing Syria to withdraw from Lebanon.
At a joint news conference, Putin and the leaders of France, Russia and German said there was no contradiction between Russian nuclear cooperation with Iran and Europe's efforts to ensure that Tehran is not building nuclear weapons.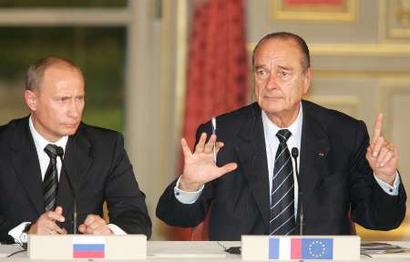 French President Jacques Chirac (R) gestures as he sits by Russian President Vladimir Putin (L) during a joint press conference after an informal meeting at the Elysee Palace in Paris March 18, 2005. Chirac met with leaders of Spain, Germany and Russia for informal talks. [Reuters]

"We all have an interest in Iran not having nuclear weapons. They must not produce them. They must not possess them. But no one can deny a country the right to have nuclear energy for civilian and peaceful ends," said German Chancellor Gerhard Schroeder, speaking through a translator.

Russian President Vladimir Putin said that although his country is aiding Iran's civilian nuclear program, Tehran also must prove that it is not pursuing nuclear weapons.

"Iran must prove that it refuses totally the acquisition of a nuclear weapon. No other limit exists," said the Russian leader, also speaking through a translator.

The United States is worried that Russia's construction of a reactor in the Iranian city of Bushehr could help Tehran develop nuclear weapons. Tehran denies it is seeking the bomb.

But U.S. officials say Russia increasingly has shared their concerns about Iran's nuclear program and have praised Moscow for demanding a deal — signed last month — that obliges Iran to return spent nuclear fuel from Bushehr. The accord is designed to prevent any possibility that Tehran will extract plutonium from the spent fuel and use it to make nuclear weapons.

The informal talks were a chance for the Europeans, led by French President Jacques Chirac, to assure Putin that Europe wants good relations with Moscow and to gently steer him toward greater democracy.

"In the relationship between Russia and all of Europe, we see the keys to peace, democracy and the rule of law taking root definitively on our continent," Chirac said.

Cooperation and gentle persuasion were the themes of the meeting to prepare for a larger summit ahead between Russia and the whole 25-nation European Union on May 10.

France sees the outstretched hand as the best way to elicit change in Russia, especially with Russia now at the European Union's doorstep. Eight former Soviet bloc countries joined the EU in May.

Turning the focus to another Middle Eastern problem, the four urged Syria to withdraw troops and intelligence services from Lebanon in accordance with a U.N. resolution.

In a statement, they called for "the total withdrawal of Syrian armed forces and security services, who must quickly leave Lebanese territory."

The "outstretched hand" approach with Russia is in contrast to the blunter approach US President Bush used last month. After meeting Putin, Bush said: "I think Vladimir heard me loud and clear" about building democracy.

Looking tense, Putin responded that he was "not the minister of propaganda."




Today's Top News
Top World News

Banker calls for foreign trade policy improvement




HIV/AIDS proposals announced for 2005




Japan rejects comfort women claims




Beijing slips in mainland top city ranking




US resolution on China's law 'firmly opposed'




Israel backs temporary Palestinian truce