World oil prices rise above $56 a barrel
(Agencies)
Updated: 2005-03-19 08:48
Oil prices rose to a new settlement high above $56 a barrel Friday, reflecting traders fears about tight supply amid strong global demand.
OPEC tried to calm the markets this week but failed due to concerns about the oil cartel's limited ability to quickly add more barrels to the market.
Light, sweet crude for April delivery settled 32 cents higher at $56.72 a barrel on the New York Mercantile Exchange, topping the previous closing high of $56.46 set Wednesday. Crude futures set an intraday high of $57.60 per barrel Thursday.
"It still looks like we haven't found a top yet," said Tom Bentz, a broker at BNP Paribas Commodity Futures in New York.
Oil is 50 percent more expensive than a year ago but still well below the inflation-adjusted peak above $90 a barrel set in 1980.
In London, Brent crude rose 53 cents to $55.59 a barrel on the International Petroleum Exchange.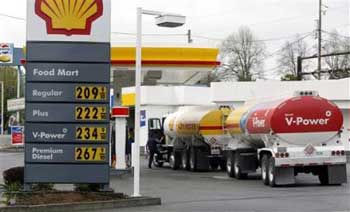 David Garcia, of Seattle, a tanker truck driver for Shell Oil, gets out of his truck Thursday, March 17, 2005 as he prepares to deliver gasoline to this Shell station near downtown, Tacoma, Wash. According to the AAA, the national average Thursday was $2.06 a gallon, and oil prices briefly climbed above $57 a barrel. [AP]

The feverish rally in recent weeks — prices up $15 since the start of the year — has been underpinned by a weak dollar and rising global demand at a time when there is very little excess supply immediately available. There are no fuel shortages, though traders are clearly pricing in that possibility, whether due to a terrorist attack, a refinery snag or some other unexpected supply bottleneck.

Although the Organization of Petroleum Exporting Countries agreed Wednesday to boost its output quota by 500,000 barrels a day, or 1.9 percent, the market brushed off the decision. Since members are already producing above their quotas, no extra supply will actually be added, analysts said.

But OPEC left open the possibility of raising its output quota by an additional 500,000 barrels and signaled Thursday that such a move could come as early as next week.

Because crude is denominated worldwide in U.S. dollars, and because the currency has lost nearly 10 percent of its value against the euro in the past year, OPEC nations have signaled support for higher oil prices in order to maintain their buying power in Europe.

Lorraine Tan, Singapore director of research at Standard & Poor's Investment Services, said the market is also fueled by supply fundamentals, such as the insufficient investments in refineries.

"Many refineries are subject to shutdowns now because they are running on full capacity," she said. "So the market gets jittery."

With the world's demand at 84.3 million barrels a day, an unforeseen supply disruption later this year, such as a bad hurricane season in the Gulf of Mexico or political instability in Nigeria or Venezuela, could send prices even higher.




Today's Top News
Top World News

Banker calls for foreign trade policy improvement




HIV/AIDS proposals announced for 2005




Japan rejects comfort women claims




Beijing slips in mainland top city ranking




US resolution on China's law 'firmly opposed'




Israel backs temporary Palestinian truce