Spain arrests Syrian man in train bomb probe
(Agencies)
Updated: 2005-03-19 08:43
Spanish police investigating the Madrid train bombings arrested a Syrian man on Friday on suspicion of recruiting and indoctrinating jihadists.
Mohannad Almallah Dabas and his brother Moutaz are accused of training young Islamist militants at their home in Madrid and sending them overseas, the Interior Ministry said in a statement.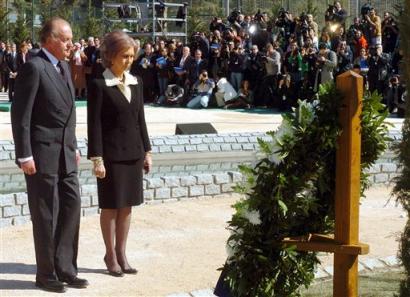 Spains King Juan Carlos and Queen Sofia stand back after placing a wreath of flowers during a five-minute silent vigil for the train bomb victims at a site in Madrid's Retiro Park Friday, March 11 2005, marking the first anniversary of the train bombings that killed 191 people and wounded more than 1,500 in Madrid, Spain. [AP/file]

Spain's ruling Socialists said they had expelled the detained man from the party. He joined a Madrid area branch of the Socialist Party 10 months ago but had been expelled in view of the serious accusations against him, the party said in a statement.

Investigators say Mohannad Almallah Dabas cooperated with another Syrian, Basel Ghalyoun, who is in prison accused of participating in the train bombings.

A total of 191 people were killed in the March 11, 2004, attacks linked to al Qaeda in which 10 bombs exploded on four packed morning commuter trains three days before a general election.

Police say the Almallah Dabas brothers associated with a man identified by investigators as a leader of the March 11 bombers: Serhane ben Abdelmajid Farkhet, also known as "The Tunisian."

Farkhet was one of seven suspects who died on April 3 when they blew themselves up rather than surrender to police who cornered them in an apartment in a Madrid suburb.

The Almallah Dabas brothers also maintained contacts with Rabei Osman Sayed Ahmed, known as "Mohamed the Egyptian," arrested in Italy last year, the ministry said. Investigators say Ahmed boasted that the train bombings were his idea, although Ahmed has denied making such a claim.

Friday's arrest brought to 76 the number of people detained in connection with the Madrid bombings, of whom 43 remain in jail or under court supervision.

The attacks helped to sweep Spain's Socialist party to power amid voter anger at the previous conservative government's support for the U.S.-led war in Iraq and its attempts to blame the bombings on Basque separatists ETA despite evidence of Islamist involvement.




Today's Top News
Top World News

Banker calls for foreign trade policy improvement




HIV/AIDS proposals announced for 2005




Japan rejects comfort women claims




Beijing slips in mainland top city ranking




US resolution on China's law 'firmly opposed'




Israel backs temporary Palestinian truce