Israel backs temporary Palestinian truce
(Agencies)
Updated: 2005-03-19 08:28
Israel on Friday welcomed a temporary truce declared by Palestinian militants and promised to hold its fire in return, but demanded that the Palestinian Authority eventually dismantle the armed groups.
The 13 main Palestinian militant groups announced Thursday they would halt attacks on Israel for the rest of the year, so far the longest period of promised calm and a success for Palestinian leader Mahmoud Abbas. Negotiating with the militants, rather than confronting them, is a cornerstone of Abbas' policies.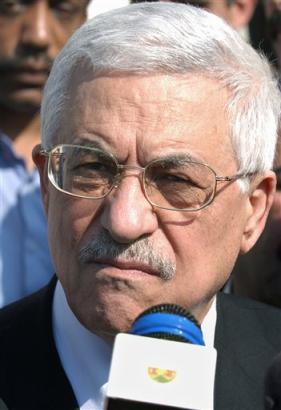 Palestinian Authority President Mahmoud Abbas, also known as Abu Mazen, talks to reporters after arriving at his house in the West Bank city of Ramallah Friday, March 18, 2005. Returning to Ramallah Friday from talks with the militant groups in Cairo, where they agreed Thursday to continue a truce with Israel until the end of this year. [AP]

A cease-fire would also help Israel withdraw this summer from the Gaza Strip and four West Bank settlements without the threat of Palestinian fire during what is expected to be a complicated operation accompanied by fierce Jewish settler resistance.

In an attempt to keep a lid on Jewish settler resistance, the Israeli army said Friday it had banned Israelis from relocating to the Gaza Strip.

However, a military official said on condition of anonymity there may be no effective way of knowing whether someone who enters the coastal area leaves at the end of the day. Roughly 8,200 Jewish settlers live in Gaza.

Hamas and Islamic Jihad ! the main groups that have waged a campaign of violence against Israel ! reserved the right to call an end to the cease-fire if Israel does not reciprocate. The declaration says the halt in violence is conditional on Israel ceasing all military operations against Palestinians and releasing all 8,000 Palestinian prisoners.

Israel's vice premier, Ehud Olmert, said Friday that Israel would refrain from military offensives to help make the shaky cease-fire a success. He noted that Israel has already released some prisoners, and plans to release more, though authorities have said they would not release all inmates.

Reiterating Israel's long-standing position, he said the militants must be disarmed at some point.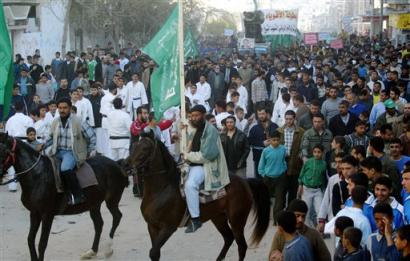 Palestinian Hamas supporters ride horses as others march, during a rally along the streets of Sheik Radwan neighborhood in Gaza City, Friday March 18, 2005. The 13 main Palestinian militants groups have announced that they would halt attacks on Israel for the rest of the year, the longest-yet period of promised calm and a success for Palestinian leader Mahmoud Abbas. [AP]

"Is it enough? Of course not," he told Israel Army Radio in response to Thursday's declaration. "Is the significance here that the Palestinian Authority is carrying out a war on terrorism? Definitely not. But they are certainly making an effort.

"We are interested that terrorism completely stop, and every step on the road to ending terrorism is positive from our perspective," Olmert said.

The White House said Friday that US President Bush will host Israeli Prime Minister Ariel Sharon at his Texas ranch on April 11 to help advance the Middle East peace process.

"The president looks forward to discussing with Prime Minister Sharon a wide range of key bilateral and regional issues, including the search for peace in the Middle East and the war on terrorism," White House press secretary Scott McClellan said in a statement.

Palestinian leader Mahmoud Abbas plans to visit Bush in Washington in coming weeks, becoming the first Palestinian leader to visit the U.S. capital since the outbreak of Palestinian-Israeli violence in September 2000.

Bush refused to deal with Abbas's predecessor, the late Yasser Arafat, accusing him of fomenting violence.

More than 1,000 Israelis were killed during the four years of violence, and more than 3,000 Palestinians died in the fighting.

Highlighting the fragility of the truce, the Popular Resistance Committees ! a Gaza-based umbrella group responsible for blowing up three Israeli-made Merkava tanks and killing seven soldiers in three attacks in 2002 and 2003 ! said it would not abide by the cease-fire.

The group's spokesman, who goes by the nom de guerre Abu Abir, said he feels slighted because the Palestinian Authority did not invite his group to participate in the Cairo talks.

"Tomorrow, Saturday, March 19, is the end of the honeymoon that we have given to Israel. We reject completely the result of the Cairo conference since we did not participate. This is a clear intent by the Egyptians and the Palestinian Authority to ignore us," Abu Abir said.

Returning to his West Bank headquarters Friday from talks with the militant groups in Cairo, Abbas was asked by reporters about the likely impact of any truce violations on the broader peace effort.

"There should not be any truce violations," he said. "Everyone should adhere to the truce, Palestinians and also Israelis."

In June 2003, the Palestinian groups declared a unilateral three-month truce that collapsed after only six weeks. This time, however, analysts say all the parties ! Israel, the Palestinian Authority, the militant factions, Egypt, Syria and Iran ! have an interest in making the truce stick. Iran has funded some of the Palestinian militants, and Syria has hosted leaders of some of the armed groups.

The declaration also comes as Hamas and ! to a lesser extent Islamic Jihad ! are trying to play a role in Palestinian politics, a step Abbas hopes will eventually lead them to give up their weapons. Hamas will participate in a parliamentary election in July, a first. In December and January, Hamas ran in local elections in the West Bank and Gaza, where it made a strong showing.

Hamas and Islamic Jihad are also seeking a role in the PLO. In the Cairo talks, the factions agreed to work out a new election law for the legislative ballot and set up a commission to draw up reforms in the PLO to ensure Hamas and Jihad a hand in decision-making.

Boaz Ganor, an Israeli counterterrorism expert, said that in the long run, it will be dangerous for Israel and the Palestinians to allow the militant groups to remain armed and be involved in politics.

"At some point, Abu Mazen will understand he cannot live with radical Islamic armed opposition and he will disarm them," Ganor said, using Abbas' nickname. "It will be a type of civil war that I think is inevitable."




Today's Top News
Top World News

Banker calls for foreign trade policy improvement




HIV/AIDS proposals announced for 2005




Japan rejects comfort women claims




Beijing slips in mainland top city ranking




US resolution on China's law 'firmly opposed'




Israel backs temporary Palestinian truce