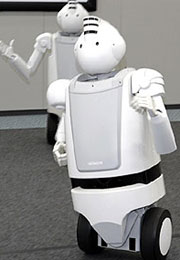 Pal and Chum impressed with their chat and fast moves
Japanese electronics firm Hitachi has unveiled its first humanoid robot, called Emiew, to challenge Honda's Asimo and Sony's Qrio robots.
Two wheel-based Emiews, Pal and Chum, introduced themselves to reporters at a press conference in Japan.
They will be guests at this month's World Expo. Sony and Honda have both built robots to showcase engineering.
Explaining why Hitachi's Emiew used wheels instead of feet, Toshihiko Horiuchi, from Hitachi's Mechanical Engineering Research Laboratory, said: "We aimed to create a robot that could live and co-exist with people. We want to make the robots useful for people. If the robots moved slower than people, users would be frustrated."
Emiew - Excellent Mobility and Interactive Existence as Workmate - can move at 6km/h on its "wheel feet".
With sensors on the head, waist, and near the wheels, Pal and Chum demonstrated how they could react to commands. Hitachi said Pal and Chum, which have a vocabulary of about 100 words, could be "trained" for practical office and factory use in as little as five to six years.
Robotics researchers have long been challenged by developing robots that walk in the gait of a human. At the recent AAAS (American Association for the Advancement of Science) annual meeting in Washington DC, researchers showed off bipedal designs.
The three designs, each built by a different research group, use the same principle to achieve a human-like gait. Sony and Honda have both used humanoid robots, which are not commercially available, as a way of showing off computing power and engineering expertise.
Honda's Asimo was "born" five years ago. Since then, Honda and Sony's Qrio have tried to trump each other with what the robots can do at various technology events.
Asimo has visited the UK, Germany, the Czech Republic, France and Ireland as part of a world tour.
Sony's Qrio has been singing, jogging and dancing in formation around the world too and was, until last year, the fastest robot on two legs.
But its record was beaten by Asimo. It is capable of 3km/h, which its makers claim is almost four times as fast as Qrio.
By 2007, it is predicted that there will be almost 2.5 million "entertainment and leisure" robots in homes, compared to about 137,000 currently, according to the United Nations (UN).
By the end of that year, 4.1 million robots will be doing jobs in homes, said a report by the UN Economic Commission for Europe and the International Federation of Robotics.

(Agencies)
日本著名的电子公司"日立"推出了它的第一款拟人化机器人Emiew,以挑战本田公司的Asimo机器人和索尼公司的Qrio机器人。
在日本的一次新闻发布会上,两名装着轮子的Emiew机器人"好朋友"和"好伙伴"向记者们作了自我介绍。
他们将成为本月举行的世界博览会的"嘉宾"。索尼和本田都曾经制造过机器人,以显示公司的技术实力。
在解释Emiew机器人为什么采用轮子而不是双脚时,日立机械工程研究实验室的年颜掘内说:"我们的目标是制造可以和人类共同生活的机器人。我们希望这种机器人对人类有帮助。如果机器人走得比人慢,使用者们会感到非常失望。"
Emiew具有出色的灵活性和与人交流合作的工作能力,它以轮代步的速度可以达到6千米每小时。
机器人"好朋友"和"好伙伴"的头部、腰部和轮子附近都装有传感器,它们示范了如何通过传感器对指令做出反应。日立公司表示,"好朋友"和"好伙伴"能够识别的词汇量为100个单词,经过"训练"后,它们有望在五六年内进入办公室和工厂从事实际工作。
机器人技术研究者们长期以来致力于研究可模仿人类步态行走的机器人。最近,在美国科技进步协会的华盛顿年会上,研究者们展示了"双足机器人"的设计方案。
现场的三种设计方案分别来自不同的研究小组,但他们不约而同地采用了相同的原理来使机器人模拟人类走路的步态。索尼和本田都使用了拟人化机器人,这种机器人并不投入商业生产,只是为了展示制造者的计算机能力和工程技术水平。
本田的Asimo机器人是五年前"出生"的,从那时起,本田公司就和Qrio机器人的制造者索尼公司展开了竞争,试图让自己的机器人在广泛的技术领域里起到的作用超过对手。
目前Asimo机器人已经访问了英国、德国、捷克、法国和爱尔兰等国,完成了它的"世界之旅"的一部分。
索尼的Qrio机器人也进行了"环球巡回演出",包括编成队列唱歌、慢跑和跳舞,截止到去年,它还是世界上用两条腿跑得最快的机器人。
但是它的记录被Asimo机器人打破了。Asimo的移动速度达到3千米每小时,它的制造者称这几乎是Qrio速度的四倍。
据联合国预测,到2007年将有近250万"娱乐休闲性"机器人进入家庭,目前这个数字是13.7万。
联合国欧洲经济委员会和机器人技术国际联盟联合公布的一份报告说,到2007年年底,将有410万机器人在家庭中工作。

(中国日报网站译)