Egypt ambassador back in Israel after 4-year break
(Agencies)
Updated: 2005-03-18 09:42
Egypt returned an ambassador to Israel Thursday more than four years after Cairo recalled its envoy at the outset of a Palestinian revolt.
The restoration of full diplomatic relations between Israel and Egypt underscored improving ties ahead of Israel's planned withdrawal from the Gaza Strip later this year and a de facto cease-fire in the Israeli-Palestinian conflict.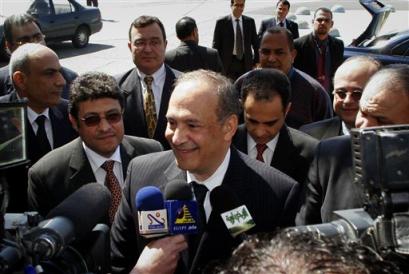 New Egyptian ambassador to Israel Mohammed Assem Ibrahim talks to journalists upon his arrival at Tel Aviv's Ben Gurion airport Thursday March 17, 2005. Assem Ibrahim arrived to take up a post that had been vacant during more than four years of Israeli-Palestinian fighting. [AP]

"I am very proud that President Hosni Mubarak granted me the responsibility for representing Egypt in Israel," Mohamed Assem said on arrival at Tel Aviv's Ben-Gurion Airport, according to the Israeli daily Haaretz.

"Like every ambassador in every country I aspire to develop the relations between our two nations," he said.

Haaretz quoted him as saying he was bringing a message of peace and cooperation and hoped that the overall Israeli-Arab conflict could be resolved in a just manner.

Egypt had pledged at a Feb. 8 summit it hosted between Israeli Prime Minister Ariel Sharon and Palestinian President Mahmoud Abbas to send back an ambassador to Israel.

Israel hopes to enlist Egypt's aid to prevent arms smuggling along the Gaza-Egypt border and stabilize the Palestinian Authority's hold over Gaza after it withdraws. Egypt controlled Gaza before Israel occupied it in the 1967 Middle East war.

Assem was previously Egypt's ambassador to Sudan, Kenya and Ethiopia, according to the Foreign Ministry in Cairo. His predecessor, Mohamed Bassiouny, was recalled in late 2000 in protest at Israel's handling of the Palestinian uprising which began shortly after peace talks focusing on Palestinian statehood in occupied territories deadlocked.

Egypt was the first Arab country to make peace with Israel, signing a treaty in 1979. Jordan followed in 1994. Jordan sent a new ambassador in February to replace its envoy withdrawn in 2000, also over Israel's response to the Palestinian revolt.




Today's Top News
Top World News

US resolution on China's law 'firmly opposed'




Russia eyes closer military ties with China




Shanghai leads cities in competitiveness




Ending EU arms ban: the sooner the better




KFC pulls food after contamination scare




Footwear exporters furious over Moscow raid