Russia eyes closer military ties with China
By Hu Xiao (China Daily/Xinhua)
Updated: 2005-03-18 05:59
Russian Chief of General Staff Yury Baluyevsky vowed yesterday to develop a closer military relationship with that country's largest neighbour.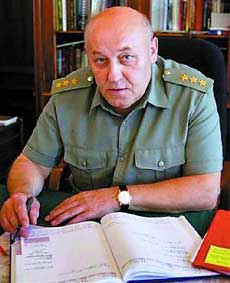 Russian Chief of General Staff Yury Baluyevsky said in Beijing March 17 that the China-Russia military exercise in autumn is a new way of cooperation and is not targeted at any third country. [file]

Baluyevsky arrived Beijing yesterday morning for a four-day visit, as plans are laid for the first joint military exercises between the two countries. It is Baluyevsky's first trip abroad since he took up the post last July.

The Russian general said developing a strategic co-operative partnership with China is one of Russia's priorities.

Baluyevsky told his Chinese counterpart Liang Guanglie that Russia is willing to work with China to strengthen bilateral ties.

The meeting yesterday touched upon the upcoming military exercises, said a Chinese defence ministry source.

The exercises are expected to be held in the second half of this year and will reportedly involve the army, navy, air force as well as submarines. A Russian military source said the exercise should help both sides co-ordinate in the fight against terrorism.

The Russian-Chinese military exercises are supposed to be held on the Liaodong Peninsula of the Yellow Sea, according to a Russia official source. The planned number of participants is 200 people, 100 from each side.

Liang said the growing co-operation between the two militaries is of great significance to security in the region.

Exercise targets no third country

Baluyevsky said the preparing Russian and Chinese joint military exercise is not targeted at any third country.

"The first joint military exercise is a new way of cooperation between the two militaries," said Yury Baluyevsky.

Instead of being targeted at any third country, the exercise scheduled to take place in autumn this year is aimed at "improvingthe training capabilities of the two militaries and boosting theircooperation," Baluyevsky told reporters after meeting with his Chinese counterpart Liang Guanglie Thursday afternoon.

Baluyevsky will also meet with Chinese state and military leaders Friday before he leaves Beijing for Sanya, a seaside resort in southern Hainan Province.

He said that the two sides have some details to further discuss.

Russia and China also agreed on the make-up of the troop, arms and equipment and military methods involved in the training.

"Russian paratroopers, marines and other forces will take part in the exercise," he said.

Russian and Chinese military leaders are also expected to attend this exercise.

The message about China-Russia military exercise first came with a memorandum of understanding on this signed between Chinese Vice-chairman of the Central Military Commission Guo Boxiong and Defense Minister Sergei Ivanov last July.

China and Russia made public the planned military exercise on December 13, 2004 when Ivanov visited China. Both defense ministers agreed in their talks that the exercise would be "a big event in the relations between the two nations and the two armies"and exert "far-reaching impacts."






Today's Top News
Top China News

US resolution on China's law 'firmly opposed'




Russia eyes closer military ties with China




Shanghai leads cities in competitiveness




Ending EU arms ban: the sooner the better




KFC pulls food after contamination scare




Footwear exporters furious over Moscow raid