Beijing slips in mainland top city ranking
By Zhao Huanxin (China Daily)
Updated: 2005-03-17 00:04
Beijing slid down to fourth place among the mainland's most competitive cities this year, while southern powerhouses Shenzhen and Guangzhou shot up.
An annual ranking of competitiveness among mainland cities was published Thursday by the Chinese Academy of Social Sciences.

A girl sits on her father's shoulders to get a better view of modern Shanghai in this May 2, 2002 file photo. A new study by the Chinese Academy of Social Sciences finds that Shanghai ranks the first among all mainland cities in terms of competitiveness. [newsphoto]

The capital still led in terms of workforce, economic structure, and science and technology.

The findings were unveiled by Ni Pengfei, who led 100 experts to prepare an in-depth urban development report for the annual "city competitiveness blue book."

Ni, a senior researcher with the top government think-tank, also said the country's emerging industrial clusters, a key source of city competitiveness, are a fountain of solutions for China's economic and social woes.

Since 2003, the institution has assessed the competitiveness of Chinese cities, gauging gross domestic product growth, infrastructure building and employment among the main indicators.

The ranking generates widespread attention and is reference for city planners and foreign investors.

This year, Ni's team factored in power and water consumption as well as environmental pollution for the first time to compile a ranking of "integrated competitiveness" among 200 of China's major cities.

The new factors, pushed the southern cities of Shenzhen and Guangzhou ahead of the Beijing, to follow Shanghai at the head of the pack.

The report focused on the competitiveness of 50 leading cities, analyzing each one of these in detail and offering remedies for any shortcomings identified.

For example, the in-depth report said Beijing is not only lacking in natural resources and environment, but the city is as far down as number 43, when it comes to protecting property rights, market and private economic development and administrative approval.

Ni said the next five years will be crucial for Beijing's development.

"If it can proceed in a co-ordinated way in (infrastructure) and (services) construction, and grasp the opportunity of hosting the (2008) Olympic Games, Beijing can surely expect its overall competitiveness to climb."

The country's economic hub of Shanghai again dominated the comprehensive competitiveness list, scoring the highest marks in capital, infrastructure, location, culture and governance.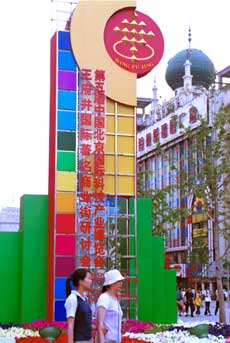 Two women walks in the bustling business street, Wangfujing, in downtown Beijing in this May 25, 2002 file photo. A new study by the Chinese Academy of Social Sciences finds that Beijing slid down to fourth place among the mainland's most competitive cities this year. [newsphoto]

Except for Beijing, Changchun and Jinan, the country's 20 most competitive Chinese cities are invariably on the east coast.

Cities in West and Central China all rank very low on the list.

Industrial clusters

Another important finding of the "blue book" is the emergence of industrial clusters in China, which Ni claimed are becoming engines powering the country's economy.

Geographically speaking, industrial clusters have formed around booming cities and towns in Northeast China, Beijing-Tianjin-Hebei, Shandong Peninsula, Jiangsu-Shanghai-Zhejiang and the Pearl River Delta in the south, he said.

Cities such as Shenzhen and Guangzhou, where industrial clusters have developed, also led in terms of per capita income, Ni said.

With extensive case studies, the study shows how industrial clusters absorb labours, speed up urbanization, narrow the income gap between urban and rural areas, and help economize on energy.

"Therefore, with this report, we'd like to appeal to the central authorities to prioritize development of industrial clusters -- as a national strategy," said Ni.

Industrial clusters may also fill the vacuum left behind by the elimination of preferential policies for development zones following China's accession to the World Trade Organization.




Today's Top News
Top China News

Banker calls for foreign trade policy improvement




Beijing slips in mainland top city ranking




US resolution on China's law 'firmly opposed'




S.Korea: Row over islets hurts Japan ties




Russia eyes closer military ties with China




Ending EU arms ban: the sooner the better