Bush names Portman US trade representative
(Agencies)
Updated: 2005-03-17 23:49
US President Bush chose congressman Rob Portman to be US trade representative on Thursday, saying the Ohio Republican has shown a deep dedication to free and fair trade.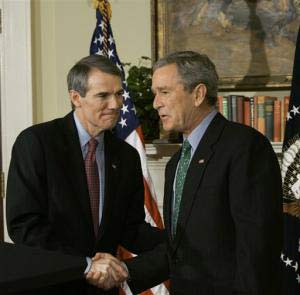 US President Bush announces Ohio Congressman Rob Portman, a Republican, as his choice to become the new U.S. trade representative, in the Roosevelt Room of the White House in Washington, Thursday, March 17, 2005. Portman will replace Robert Zoellick who has moved to a senior post at the State Department. [AP Photo]
"As an Ohioan, Rob knows firsthand that millions of American jobs depend on exports, including one in every five factory jobs," Bush said in nominating Portman to be the administration's top salesman for free-trade agreements around the world.
America is home to about 5 percent of the world's population, which means 95 percent of the nation's potential customers are abroad, Bush said at a White House ceremony in the Roosevelt Room.
"To keep our economy growing and creating jobs we need to continue opening foreign markets to American products," he said. "Rob knows that America's farmers and workers can compete with anybody, anytime anywhere in the world so long as the rules are fair."
Appearing with his wife and children, Portman said his daughter, a fourth-grader, admitted that she had never heard of the U.S. trade representative, but told him, "Dad, it sounds like a really neat job."
"And it is," Portman said.
"Open markets and better trade relations are key components to a more peaceful and more stable and more prosperous world," he said. "Here at home, trade policy opens markets to create jobs, a higher standard of living and greater economic growth."
If confirmed by the Senate, the 49-year-old Republican congressman from the Cincinnati area would replace Robert Zoellick, who has become Condoleezza Rice's top deputy at the State Department. As one of Bush's chief links to Congress on trade, tax and other issues, Portman has been a strong advocate of free trade even though he comes from a state that has been hit hard by job losses.
Bush ticked off what he said was an impressive list of achievements under Zoellick: securing congressional approval for so-called fast-track trade promotion authority for the president and negotiating new free trade agreement with a dozen nations on five continents that will open a combined market to 124 million consumers for US farmers, manufacturers and small business owners.
The next trade representative will face a tough fight in Congress to win approval for the Central American Free Trade Agreement. CAFTA would remove trade barriers between the United States and five Central American countries plus the Dominican Republic.
While the administration sees the pact as a continuation of its efforts to open markets for American manufacturers and farmers, it has attracted opposition from groups ranging from organized labor to US sugar producers and textile manufacturers.
In Congress, Portman has served since 2001 as the liaison between the White House and House leadership. In that role, Portman frequently is called upon to move Bush-backed legislation through the House, such as the bill creating the Department of Homeland Security.
Portman, who lives in the Cincinnati suburb of Terrace Park with his wife, Jane, and three young children, was an associate counsel in the White House during the administration of Bush's father and eventually became director of its Office of Legislative Affairs.
When George W. Bush took office in 2000, Portman's name turned up on the short list for several administration jobs, including secretary of commerce. He is a member of the House Ways and Means Committee, where he has concentrated on tax and finance issues, such as IRS reform.
Portman was elected to Congress in a special election in 1993, following the abrupt departure of Rep. Bill Gradison, who resigned to head a health insurance lobbying group. For Bush's re-election, Portman served as the campaign's communications director for Ohio. He also helped coach Vice President Dick Cheney for his debates, both in 2000 and again in 2004.
If approved as the next trade negotiator, Portman also will be trying to ignite new energy into negotiating a hemisphere-wide free trade zone ¡ª one of the administration's top trade goals ¡ª and finishing the round of global trade talks being conducted at Doha, Qatar, by the World Trade Organization.
Opponents of the administration's free trade efforts argue that the policies have failed to protect U.S. workers from unfair competition from countries with low wages and lax environmental laws. They point to a loss of 2.7 million manufacturing jobs during the past four years and record deficits.
The US trade gap surged by 24.3 percent in 2004 to set a record for the third straight year at US$617.1 billion and private economists said another record trade imbalance could be posted this year.
The next trade representative also would guide the administration's push to strike free trade deals with several countries in the Middle East ¡ª part of Bush's goal of creating a free trade zone through the region by 2013.
Today's Top News
Top World News

1/3 of Chinese youth condone extramarital sex




Powerful blasts kill at least 29 in Jiangxi




KFC pulls food after contamination scare




Footwear exporters furious over Moscow raid




Rice's visit expected to touch key issues




Bush picks Wolfowitz for new WB president