KFC pulls food after contamination scare
By Wu Chong and Shao Xiaoyi (China Daily)
Updated: 2005-03-17 22:47
Fast food giant KFC has withdrawn two menu items from its outlets in China because of fears of contamination from a food colouring, Sudan I, which could cause cancer.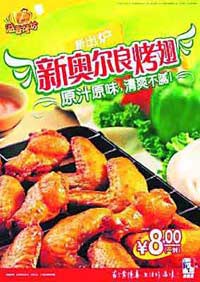 All KFC outlets in China have stopped selling New Orleans roast chicken wings and chicken hamburgers Wednesday after the cancer-causing food coloring, Sudan I, was found in the sauce Tuesday. [file photo]

The firm stopped selling New Orleans roast chicken wings and chicken hamburgers in all its outlets in China when Sudan I was detected in a sauce on Tuesday.

The company says it will destroy all the remaining "unsafe" sauce, according to a statement released Thursday by Yum, KFC's parent company.

Yum apologized to all its customers, and announced that no other food from KFC or Pizza Hut, also a Yum subsidiary, contains the colouring.

The company said it has already found a new sauce supplier and the New Orleans roast chicken wing is expected to be back on sale in a week.

The sauce's supplier, Griffith Laboratories, a global manufacturer of food ingredients, also released a statement Thursday saying that the raw material for the sauce comes from Hongfang Spice Company, based in Kunshan in East China's Jiangsu Province.

Griffith said it has stopped circulating all suspicious chilli powder, and has begun to recall all related products from the market.

No one at Hongfang was available for comment Thursday.

But a company employee told China Daily that some local farmers tend to add the illegal colouring to the surface of their peppers to make them look nicer before selling them.

"It is an illegal food colouring so it isn't regulated by the State's food inspection standards," he said.

Experts say Sudan I can increase the risk of cancer.

Most KFC fans in China say they will still eat there despite the incident.

And a number of New Orleans fans say they will continue to buy it because "no food is safe now."

In the national campaign against Sudan I, launched by the State Administration for Quality Supervision, Inspection and Quarantine since last month, the illegal colouring has been detected in many provinces, municipalities and autonomous regions, including Beijing and Shanghai.

Early this month, the ingredient Meiweiyuan, produced by the Guangzhou-based Heinz-Meiweiyuan Food Co, was found to contain Sudan I.

Thursday, Zhejiang Province's food safety office said two food factories have been found to have added ingredients that contained Sudan I to its products.




Today's Top News
Top China News

1/3 of Chinese youth condone extramarital sex




Powerful blasts kill at least 29 in Jiangxi




KFC pulls food after contamination scare




Footwear exporters furious over Moscow raid




Banks tighten grip on property loans




Bush picks Wolfowitz for new WB president