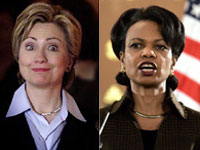 Rumours about 2008 Clinton v Rice
It is three years and 233 days until the next presidential election in the US, and only 50 days into President George W Bush's second term.
But speculation is already reaching a fever pitch about possible presidential candidates in 2008. The list of possible contenders began almost immediately after Mr Bush won last November.
But this frenzy of political prognostication is being driven by an undeniably intriguing scenario - that pits Senator Hillary Clinton against Secretary of State Condoleezza Rice.
Although Ms Rice has strained to find new ways of saying she is not interested in a bid, the possible presidential match-up has the chattering classes so prematurely worked up that they are having a hard time letting go.
Ms Rice said she planned to return to academic life. Before she became national security adviser during President Bush's first term, she was provost at Stanford University in California.
Or as she recently said at a State Department press conference: "I'm going to try to be a good secretary of state, and then, as I've said many, many times, there's always NFL (National Football League) commissioner." She is a big fan of American football.
Despite of her repeated denials, several websites, blogs and other grassroots still make great efforts to encourage her to run.
Ms Rice received glowing press after her recent European tour. And US conservatives are looking for a candidate to counter their arch-nemesis: Hillary Clinton. She is also the source of endless speculation about her presidential ambitions.
Ms Rice just laughed and said she had no plans to run, but conservatives are determined never to let another Clinton call the White House home.
On the Republican side, Ms Rice comes in third behind former New York City Mayor Rudolph Giuliani and Arizona Senator John McCain.
Most political experts will say that at this early stage, these polls measure name recognition more than accurate levels of political support.
Ask most Americans who they would vote for in 2008, and they are most likely to look at you in bewilderment and ask: "Didn't we just have an election?"
University of Virginia political science professor Larry Sabato believes all this early presidential speculation is driven largely by journalists in election withdrawal.

(Agencies)
今天(3月17日)离下一届美国总统大选还有三年零233天,现任美国总统乔治·布什的第二届任期刚刚开始了52天。
但关于2008年美国总统大选候选人的推测已经炒得沸沸扬扬。去年11月布什前脚刚刚获胜,可能参加下一任总统竞选的候选人名单紧接着就出炉了。
但是,这种狂热的政治预言基于一种假设——参议员希拉里·克林顿和国务卿康多莉扎·赖斯展开角逐——这样的"对抗"无疑很有吸引力。
尽管赖斯尽力寻找新的方式来表明自己对竞选没有兴趣,却总有一帮喋喋不休的人围绕着未来可能发生的总统争夺战转个不停,他们的情绪过早地被煽动起来,想要平静下来还需要度过一段艰难的时期。
赖斯说她曾打算回到学术界。在布什第一任期内成为国家安全顾问之前,她担任过加州斯坦福大学的教务长。
或者就像她最近在美国国务院的一次新闻发布会上说过的那样:"我将努力成为一名出色的国务卿,然后,正如我曾很多次说过的,我一直希望能成为美国国家橄榄球联盟的主席。"她是橄榄球运动的铁杆球迷。
尽管她一直否认会参加2008年总统竞选,一些网站、博客论坛和其他"草根民众"仍然大力鼓励她参选。
最近的欧洲之行归来以后,赖斯受到了很大的压力,而且美国的保守派们正在寻找一位候选人来对抗他们的主要劲敌希拉里·克林顿。希拉里到底有没有成为下一任总统的雄心壮志,自然也成了人们无休止的猜测话题。
赖斯只是笑着说自己没有参加竞选的计划,但保守派成员们已经决定再也不能让另一个"克林顿"入主白宫。
在共和党内部,赖斯的支持率暂居第三,排在前纽约市长鲁道夫·朱利安尼和亚利桑那州参议员约翰·麦凯恩之后。
大多数研究政治的专家们会说,现阶段所有的民意测验反映的主要是人物的知名度,而不是准确的政治支持度。
如果你问大多数美国人2008年会投谁的票,他们很可能会困惑地看着你,问道:"我们不是才选举过一次了吗?"

弗吉尼亚大学政治学系的教授拉里·萨巴托认为,这些对未来总统人选的提前预测在很大程度上都是还没戒掉"大选瘾"的各路记者煽动起来的。

(中国日报网站译)