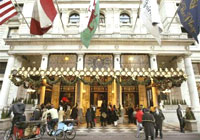 Fans hope to save New York hotel
Celebrities, labour unions and ordinary fans are joining forces to try to save one of New York's most famous hotels.
The Plaza Hotel is due to close down on 30 April, and to be turned into a department store, apartments, and a smaller "boutique" hotel.
The Reverend Jesse Jackson is leading a rally to save the hotel on Monday, with actress Susan Sarandon also expected.
Built in 1907, the hotel has 805 rooms and employs about 950 staff - many of whom have joined the protests. A standard room can be obtained for $580 (£300).
The presidential suite costs $15,000 (£7,850), but does sleep 10, and comes with its own chef, a 2,000-bottle wine cellar, and a chauffeur-driven Rolls Royce.
The famous building - the only US hotel to be designated a national landmark - hosted the wedding of Michael Douglas and Catherine Zeta Jones in 2000.
The French Renaissance-style hotel was also where International Olympic Committee delegates were put up last month during their visit to assess the city as a potential host for the 2012 games.
The hotel was bought in October by Elad Properties, an Israeli developer hoping to take advantage of the booming property market in Manhattan, where luxury apartments are selling for an average of $1.2m each.
But fans of the old building are vowing to stop it. They are attempting to have the interior of the hotel given landmark status so its use cannot be changed.
Besides the celebrity regulars, the braided doormen and the waiters, the hotel is also set to be missed by New Yorkers.
Kristin Perkins said she had come to the hotel for possibly the last time, to celebrate Terry Trebling's 47th birthday, and to bring along five-month-old Grace.
"We come to the Plaza for tea on our birthdays," Ms Perkins told London's Times newspaper.
"So we heard the place was closing and we were very, very sad. We had to bring Grace along because she will never see it again. It is such a shame."

(Agencies)
社会名人、工会组织和普通的热心民众联合起来,呼吁当局保留纽约最著名的饭店之一——Plaza Hotel。
Plaza Hotel原定于4月30日关闭,随后将被改建为百货商场、公寓楼和一个规模较小的"精品"旅馆。
本周一,牧师耶西·杰克逊组织了集会,呼吁不要关闭Plaza Hotel,演员苏珊·萨兰登也参加了这次活动。
Plaza Hotel始建于1907年,内有805个房间,大约950名员工,很多员工都参与了抗议活动。Plaza Hotel标准间的价格是每间580美元(300英镑)。
总统套房的价格是1.5万美元(7850英镑),但可以同时容纳10个人,还配有专门的大厨、一个能储存两千瓶酒的酒窖和一辆配备私人司机的劳斯莱斯汽车。
这座著名的建筑物是美国唯一一家被指定为国家级标志性建筑的旅馆。2000年,迈克尔·道格拉斯和凯瑟琳·泽塔·琼斯在这里举行了婚礼。
这座具有法国文艺复兴时期风格的旅馆也是国际奥委会代表团成员们的下榻处,上个月他们前来考察纽约申办2012年奥运会的准备情况。
去年10月份,该旅馆被以色列房地产开发商伊兰德物业集团收购,该集团希望从发展迅速的曼哈顿房地产市场获利,曼哈顿的豪华公寓的均价是每间120万美元。
不过这座老楼的铁杆支持者们发誓要阻止这一切,他们努力使旅馆内部也获得了地标身份,这样它的用途就不能改变了。
除了那些常住在这里的名人、留着辫子的门卫和侍者外,其他的纽约人也注定会怀念这座旅店。
克里斯汀·帕金斯说,她曾经带着五个月大的小格雷斯一起来这里庆祝特里·特雷伯林的47岁生日,那可能是她最后一次来这里。
帕金斯告诉伦敦《泰晤士报》:"生日那天我们来Plaza 喝茶。"
"所以,当我们听说那儿就要被关闭了,我们非常非常伤心。我们必须把格雷斯也带上,因为她以后再也见不到它了。这真是令人惋惜。"

(中国日报网站译)