China's central bank announced measures to tighten property loans Wednesday, in a further sign of concern about a property bubble.

The People's Bank of China (PBOC) also reduced the interest rate on banks' excess reserves -- a move analysts say is aimed at alleviating liquidity difficulties among businesses.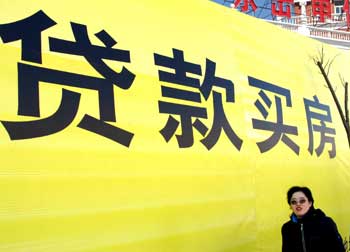 A woman walks past a poster on housing loans in Liaocheng, Shandong Province in this March 13, 2005 photo. The central bank announced on March 16 that mortgage rate for individual house buyers will rise by 0.2%. [newsphoto]

Starting Thursday, commercial banks are barred from lowering interest rates on consumer housing loans to below 0.9 per cent of the PBOC's benchmark rates.

That brings the upper limit of interest rates on loans longer than five years up by 20 basis points to 5.51 per cent, the bank said.

It also allows commercial banks to raise down payments from 20 per cent to 30 per cent in cities where the lenders believe property prices have been rising "too fast."

"That means it has become the decision-makers' unuttered view that there has been property bubble in some cities," said Wang Songqi, deputy director of the Finance Research Institute under the Chinese Academy of Social Sciences.

"Although the measures are only a moderate tightening, they sent a signal to the market," he added.

China's property prices rose rapidly during the past one year or so, and have long prompted worries among some analysts and government officials about a property bubble -- although many hold the growing trend of urbanization is delivering substantial support to the industry.

Real estate investment slowed down last year, but the continued uptrend in prices "need close attention," the central bank said in its 2004 fourth quarter monetary policy report, released last month.

Nine cities reported property price increases heftier than 9 per cent last year, including Shanghai and Nanjing of East China's Jiangsu Province.

The PBOC also announced Wednesday its decision to reduce the annual interest rate on excess bank reserves, which banks keep besides required reserves basically to meet payment needs, to 0.99 per cent from 1.62 per cent previously.

The rate cut "will help commercial banks further improve their efficiency in fund use and liquidity management, and will promote the liberalization of the interest rate regime," the PBOC said in a statement.

Wang said the move is aimed more at pushing the banks to lend more to businesses, many of which -- particularly the smaller ones --, are feeling liquidity difficulties partly as a result of the ongoing macro management.

China took a slew of measures as early as the second half of 2003 to curb the rapid growth in bank loans and fixed investment, which gave rise to worries about overheating.

"Liquidity is already on the tight side (among businesses)," Wang said.

The central bank has scaled down its money supply growth target for this year to 15 per cent from last year's 17 per cent.

The growth of broad money supply slid to 13.9 per cent at the end of February from 14.1 per cent one month earlier, which some economists worry is a bit too slow to support this year's 8 per cent economic growth target.