Japanese prefecture passes law on South Korea-held islets
(Bloomberg)
Updated: 2005-03-16 14:28
Japan's Shimane Prefecture passed a law to underline claims for sovereignty over two islands controlled by South Korea. The South Korean National Security Council will discuss what action to take tomorrow.
The legislation designating Feb. 22 as "Takeshima Day" was passed to mark the 100th anniversary of Shimane's declaration the islands, two rocky outcrops in the Sea of Japan, are part of the prefecture, Yasuo Kanda, an official in the regional government contacted today by telephone, said.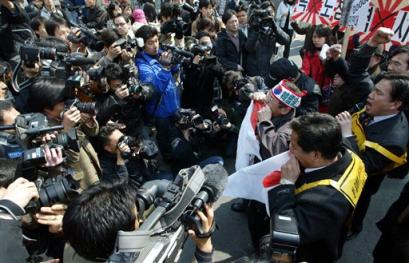 South Korean protesters are surrounded by media during a rally against Japan's sovereignty claims over South Korea's Dokdo islets in front of the Japanese Embassy in Seoul Wednesday, March 16, 2005. South Korea on Wednesday vowed to maintain its grip on islets also claimed by Japan after a provincial Japanese assembly asserted Tokyo's claims in a vote that the Seoul government called deplorable but without impact. [AP]

South Korea's National Security Council will meet tomorrow to discuss what action the government will take, Foreign Minister Ban Ki Moon said today in comments televised live before the legislation in Shimane Prefecture was passed.

"Our people are deeply concerned and angry," Ban said, referring to the island dispute and moves in Japan to publish textbooks that the South Korean government says glorify Japan's colonial rule of the country.

Takeshima, known as Tokto in South Korea, consists of two islets totaling 0.23 square kilometers (0.14 square miles), Kyodo News said earlier.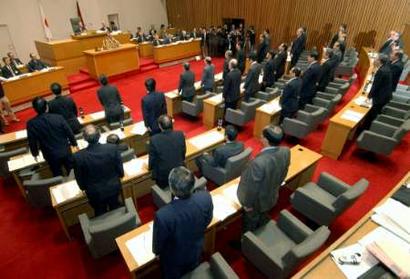 Shimane prefectural assembly members rise in Matsue, western Japan March 16, 2005 as they vote on the passage of a bill designating February 22 as 'Takeshima Day'. The Shimane assembly declared 'Takeshima Day' as a special day named for islands disputed with South Korea on Wednesday to stress Japan's claim over them, a move certain to fuel the territorial row and inflame Koreans. [Reuters]

South Korea, which calls the sea between the two countries the East Sea, has had its coast guard on the larger isle since 1954. The seas around the islets are rich fishing grounds.

Deputy Minister for Foreign Affairs and Trade Lee Tae Sik said on Monday the country may recall its ambassador to Japan, Dong-A Ilbo newspaper reported.

Japan's central government tried to get the Shimane Prefecture to give up plans to pass the legislation. Both sides say they are keen to avoid the dispute hurting wider relations between the countries.

"I don't think we need to unnecessarily worsen relations between Korea and Japan," Ban said.

The following is the text of the ordinance translated by Kyodo News:

Article 1. Takeshima Day shall be instituted in order to promote a movement by the citizens of the prefecture, its cities, towns and villages united as one aimed at establishment of territorial rights on Takeshima at an early date and at enlightening the opinions of the nation with respect to the issue of Takeshima.

Article 2. Takeshima Day shall be Feb. 22.

Article 3. The prefecture shall strive to implement measures and policies necessary to promote undertakings befitting the purposes and objectives of Takeshima Day.




Today's Top News
Top World News

Law against secession to benefit Straits ties




Rice: US doesn't have a posture against China




CCB chairman quits amid graft allegations




Back words with action, Dalai told




July by-election will reveal new HK chief




People who moved China, 2005