U.S. said considering selling F16s to India, Pakistan
(Agencies)
Updated: 2005-03-16 09:50
The U.S. government is considering selling F-16s to Pakistan and India, but congressional and diplomatic sources said on Tuesday they had not been told of a firm Bush administration decision.
Even if the administration approved both deals, it is not clear India would go through with the purchase, officials and experts said.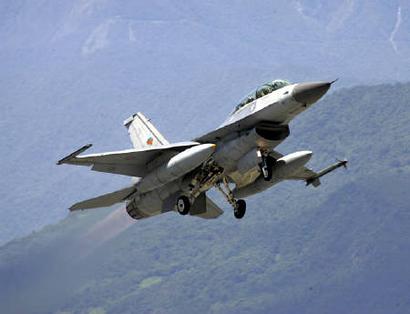 This August 17, 2004 file photo shows an F-16 fighter jet taking off.[Reuters]

The Wall Street Journal reported Tuesday that U.S. Secretary of State Condoleezza Rice is expected to signal U.S. willingness to sell Lockheed Martin Corp.'s F-16 fighter jets to both nuclear rivals when she visits the region this week.

This would be a major U.S. policy shift and a final step toward tacit acceptance of both countries' possession of nuclear weapons.

Tensions between Indian and Pakistan, who have fought three wars and were on the brink of another in 2002, have eased since they began talks last year aimed at ending half a century of enmity.

A senior administration official told Reuters, Rice "will discuss many issues while in India and Pakistan. It (the F-16 issue) will come up in the context of the broader issues she will be discussing with both governments."

Army Brig. Gen. Shafqaat Ahmed, defense attache at the Pakistani Embassy in Washington, said: "We've been talking to our American friends for a long time now (on the F-16 deal), but they've not given us a clear answer to our request so far."

Another U.S. official, speaking anonymously, said the administration was considering selling F-16s to both sides, but declined to describe what Rice would tell the two governments.

The administration promised to consult Congress before a decision on the F-16s, and so far, this has not happened, one congressional source said.

Jehangir Karamat, Pakistan's ambassador to the United States, opened new political possibilities for advancing Pakistan's stalled 15-year quest for the F-16 fighters when he told Reuters in an interview last month Islamabad would not object to India also buying the American-made jets.

At the same time, U.S. defense firms were promoting their wares at an Indian air show after New Delhi, long dependent on Russian-made armaments, expressed an interest in American-made aircraft.

India sought proposals from Lockheed and three other Russian and Europeans firms in its bidding process for as many as 125 planes. It was the first time in years that India had expressed interest in U.S. arms, reflecting warming ties between the two democracies.

An Indian diplomat told Reuters his government recently extended the proposal submission deadline at Lockheed's request, but New Delhi "is still far from a decision" on a plane deal.

U.S. officials said India's military appears divided over what kind of plane the country should buy.

"There seems to be this growing sense of inevitability about a deal involving F-16s, but there is discussion that it might not be new F-16s," said Wade Boese at the Washington-based Arms Control Association.

He considered a deal with Pakistan more likely, but said: "The U.S. is clearly staying to stay in bed with both countries, and they're going to offer them inducements to keep them happy."

Boese said any decision to sell F-16s would be a setback to U.S. efforts to curb nuclear proliferation.

Richard Aboulafia of the Virginia-based Teal Group said sales of the fighter jets to India and Pakistan could "do an awful lot to give the F-16 a franchise for the next few years."




Today's Top News
Top World News

Law against secession to benefit Straits ties




Rice: US doesn't have a posture against China




Back words with action, Dalai told




July by-election will reveal new HK chief




Heilongjiang coal mine accident kills 17




Russia paid $10M for Maskhadov information