Syrian intelligence agents complete Beirut pullout
(Agencies)
Updated: 2005-03-16 09:23
Syrian intelligence agents moved out of their Beirut headquarters early on Wednesday, witnesses said, a step toward meeting U.S. and Lebanese opposition demands for an end to Syria's tutelage over its small neighbor.
The witnesses said a bulldozer demolished two guard posts, trucks loaded with office equipment drove away and the last intelligence officers left the headquarters in the seafront Ramlet al-Baida district.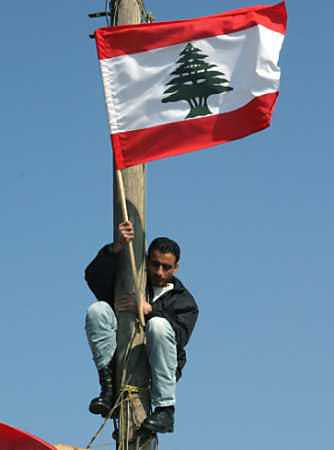 A Lebanese protester raises the country's flag near the Syrian intelligence offices in Beirut, March 15, 2005. Syrian intelligence agents began evacuating their headquarters in Beirut on Tuesday, partially meeting a key U.S. and Lebanese opposition demand for an end to three decades of Syrian tutelage over its neighbor.[Reuters]

The Syrians had also removed pictures of Syrian President Bashar al-Assad and his late father Hafez from around the building before driving away.

Syria's often feared intelligence apparatus has been a key element in its political and military influence on Lebanon since its troops first intervened early in the 1975-90 civil war.

A Lebanese security source said he expected all Syrian intelligence agents in Beirut, the north and the Mount Lebanon area overlooking the capital, to have moved to eastern Lebanon by Wednesday night. He put their number at 150 to 200.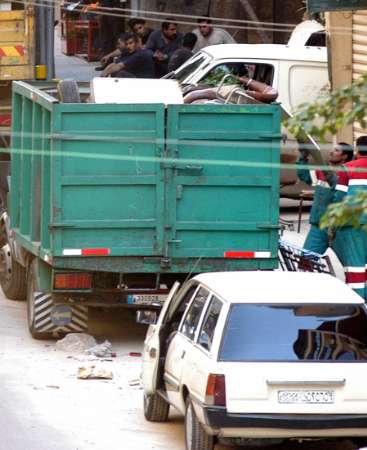 Workers load the furniture of the Syrian intelligence office onto a truck, in Beirut March 15, 2005.[Reuters]

For now Syrian intelligence retains its Lebanon headquarters in the Bekaa Valley town of Anjar, but the closure of the Beirut office indicated that Syrian forces have almost completed the first phase of a withdrawal from Lebanon announced 10 days ago.

Syria agreed to move its troops after the Feb. 14 killing of former Prime Minister Rafik al-Hariri sparked fierce anti-Syrian protests in Beirut and global calls for the Syrians to leave.

US President Bush called on the Shi'ite Muslim Hizbollah guerrilla group to prove it was not a terrorist organization by laying down its arms and working for peace.

"We view Hizbollah as a terrorist organization and I would hope that Hizbollah would prove that they're not by laying down arms and not threatening peace," Bush told reporters on Tuesday with Jordan's King Abdullah at his side.

Hizbollah brought out hundreds of thousands of people on the streets of Beirut last week in support of Syria, showing it has massive support in Lebanon. It also has members in parliament and runs charities.

PROTEST

Around 3,000 pro-Syrian students chanting "Death to America" marched on the U.S. embassy near Beirut on Tuesday, burning Israeli and American flags and denouncing what they say is Washington's interference in Lebanon.

The crowd chanted: "Ambassador leave, keep our country free," in reference to U.S. envoy Jeffrey Feltman.

Scores of Lebanese soldiers and riot police, backed by armored troop carriers, put up metal barricades and barbed wire to keep the protesters away from the embassy complex in Awkar, north of Beirut, but the protest went off peacefully.

Lebanese security sources say the Syrians will complete the first stage of their pullout in the next couple of days. More than 4,000 soldiers returned to Syria last week, while 2,000 more were redeploying eastwards to the Bekaa Valley.

The dismantling of the intelligence headquarters and another Syrian intelligence office in Beirut coincided with a visit to Damascus by Egyptian President Hosni Mubarak and efforts by Lebanon's pro-Syrian Prime Minister-designate Omar Karami to form a unity government to defuse the political crisis.

Mubarak met Assad, who is under intense Lebanese, Arab and world pressure for a full withdrawal. Syrian media said they discussed Lebanon but gave no details. Mubarak later flew home.

Karami, forced to resign on Feb. 28 but reappointed last week, met politicians and parliamentary blocs on Tuesday on the make-up of a new cabinet to lead Lebanon to elections in May.

Opposition MPs gave him a list of demands, including an international investigation into Hariri's killing and the sacking of Syrian-backed security chiefs, saying these must be met before they would discuss joining any government.

If Karami fails, it could delay the parliamentary polls because a new government must be in place to ask the assembly to pass an electoral law at least a month before the election.

A U.N. fact-finding team finished its probe into the killing of Hariri on Tuesday and will report its findings to Secretary-General Kofi Annan soon.

Hundreds of thousands of flag-waving anti-Syrian protesters flooded central Beirut on Monday in Lebanon's biggest rally since Hariri's assassination in a bomb blast a month earlier.

Several opposition leaders, including Druze chief Walid Jumblatt, called for the resignation of Lahoud and Lebanese security chiefs, whom they accuse of playing a part in Hariri's death. Damascus denies any involvement.




Today's Top News
Top World News

Law against secession to benefit Straits ties




Rice: US doesn't have a posture against China




Back words with action, Dalai told




July by-election will reveal new HK chief




Heilongjiang coal mine accident kills 17




Russia paid $10M for Maskhadov information