Israeli troops set to pull back from Jericho
(Agencies)
Updated: 2005-03-16 09:00
Israeli forces were set to pull back from Jericho on Wednesday, a move that could bolster Palestinian leader Mahmoud Abbas in his talks with militants on extending their informal truce with Israel.
"It was agreed that after a joint tour by Israeli and Palestinian brigade commanders (on Wednesday) the handover of the city of Jericho will begin," a senior Israeli officer said after military teams from both sides met late on Tuesday.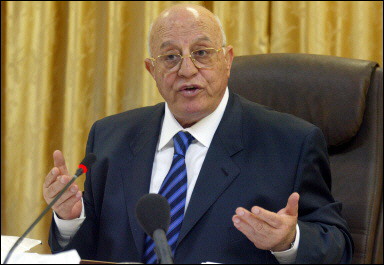 Palestinian Prime Minister Ahmed Qorei opens the weekly cabinet meeting in Ramallah. Palestinians prepared to take control of Jericho from Israel in the first of five West Bank security transfers, as Palestinian factions assembled for talks on a formal ceasefire.[AFP]

He estimated the repeatedly delayed pullback from the West Bank city, largely calm throughout most of a Palestinian uprising that erupted in 2000, was likely to start around 1100 GMT.

The Israeli officer, who declined to be identified, said Jericho would be transferred to "full Palestinian security control" but Israeli forces would remain at a key intersection on a highway leading to the biblical, oasis town.

Israeli Prime Minister Ariel Sharon has pledged to move troops away from four other West Bank cities -- Tulkarm, Ramallah, Qalqilya and Bethlehem -- in confidence-building gestures to Abbas.

Peace hopes have risen since the moderate Palestinian leader, elected president on Jan. 9 to replace the late Yasser Arafat, declared a ceasefire along with Sharon at a ground-breaking summit in Sharm el-Sheikh, Egypt last month.

ABBAS TALKS TO MILITANTS

Abbas opened talks in Cairo on Tuesday with about a dozen Palestinian militant groups, hoping to persuade them to extend their de facto truce with Israel. The factions said any ceasefire depended on what Israel had to offer.

The militant groups Hamas and Islamic Jihad have demanded a timetable for an Israeli troop withdrawal and prisoner release as part of a package including a suspension of attacks on Israel, possibly for three months.

Abbas told the opening session of the meeting the agreement on what he called calm with Israel had already produced benefits, but said the Jewish state must fulfil its side of the deal reached at Sharm el-Sheikh.

The Jericho handover had been delayed several times by differences over the number of checkpoints Israel would dismantle on roads leading to the town, once a popular spot for Israelis who flocked to its casino.

In what had appeared to be an obstacle to an agreement, a dispute erupted earlier on Tuesday between Israel and the Palestinians after Abbas said he would free a militant jailed in Jericho over the assassination of an Israeli cabinet minister.

But Sharon's office said senior Palestinian officials had denied any intention to release Ahmed Saadat, leader of the Popular Front for the Liberation of Palestine (PFLP) that claimed responsibility for the 2001 killing of Rehavam Zeevi.

Abbas also pledged to release another militant held in Jericho, Fuad al-Shobaki, an Arafat aide linked by Israel to weapons smuggling.




Today's Top News
Top World News

Law against secession to benefit Straits ties




Rice: US doesn't have a posture against China




Back words with action, Dalai told




July by-election will reveal new HK chief




Heilongjiang coal mine accident kills 17




Russia paid $10M for Maskhadov information