Russia paid $10M for Maskhadov information
(Agencies)
Updated: 2005-03-16 04:15
Russia's security service announced Tuesday it paid an unprecedented $10 million to informers who helped track down the late Chechen rebel leader Aslan Maskhadov ¡ª an effort to give credibility to its renewed offer of an identical prize for the Kremlin's No. 1 foe, warlord Shamil Basayev.
The announcement appeared part of a stepped-up effort to eliminate separatist leaders whose fight against the Kremlin has dragged on for most of the past decade and destabilized much of Russia's southern flank. Chechnya's Moscow-backed president suggested it was part of a plan to rely increasingly on the region's local population in its attempts to stop rebel warlords.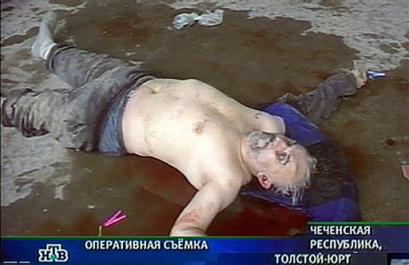 A corpse claimed to be that of Chechen separatist leader Aslan Maskhadov seen in this file image made from television broadcast on March 8, 2005. [AP/file]

"The promise to pay a large sum of money has been realized, and the population knows that this is no myth. People will turn up who will independently trace Basayev and his underlings and report to the proper authorities," the Interfax news agency quoted Alu Alkhanov as saying.

"I am certain that Basayev can now hardly feel calm and sure of himself in any region or settlement at all, in a forest or in the mountains," he said.

Russian authorities did not say who received the reward, and there was no way to confirm the payment. But the $10 million would be the largest ever given by the Russian government for a fugitive.

A year ago, U.S. authorities said a tipster who pointed American forces toward the hideout of former Iraqi leader Saddam Hussein's two sons had been paid the bulk of $30 million in reward money; the reward offered $15 million for each of the sons. The United States said at the time that the $25 million reward for help in capturing Saddam was not likely to be given out because he was located by the U.S. military.

The United States has also offered $25 million each for al-Qaida chief Osama bin Laden and his top operative in Iraq, Abu Musab al-Zarqawi.

Maskhadov was killed last week in a Russian special forces operation in the Chechen village of Tolstoy-Yurt, authorities said. The security service, known by its Russian acronym FSB, had said in September that it would pay a $10 million bounty for information leading to the killing or capture of him or Basayev ¡ª who remains at large and has claimed responsibility for attacks including the deadly raid on a school in the town of Beslan.

Basayev is now seen as the most powerful rebel figure, despite the appointment of a little-known former Islamic judge to replace Maskhadov.

The killing of Maskhadov was a victory for the security services, who have struggled to penetrate the tightly knit clan society of Chechnya. Maskhadov and other rebel leaders appeared able to move about fairly freely in the region, where they boasted of a large network of collaborators. Previous claims that their killing or capture was imminent had never borne out.

The FSB said it would be prepared to help the people who provided the information on Maskhadov by relocating them to another region of Russia or to a Muslim country, and offered similar guarantees for informants on Basayev's whereabouts.

"The Russian Federal Security Service confirms its preparedness to guarantee personal security and payment of an appropriate monetary award to citizens providing trustworthy information on the whereabouts of the terrorist leaders," the FSB statement said. Spokesman Sergei Ignatchenko said the agency "guarantees the payment of a $10 million reward for information about Basayev's whereabouts."

Despite the pledge to protect informers, fears of rebel revenge could hamper a strategy of relying on the population of a region where people closely watch their neighbors.

"The people who got the reward face huge risks," said Human Rights Watch's Alexander Petrov, an expert on Chechnya who repeatedly traveled to the region.

The announcement of the payment came a day after authorities said they blew up the house where Maskhadov was killed because they feared it could have been booby trapped. But rights activists and government critics questioned the motives for the building's destruction, which added to the secrecy surrounding the raid, and said announcing the reward could have been a way to affirm the official accounts of Maskhadov's death.

While federal authorities said Maskhadov had been hiding in a basement bunker, a woman who lived in the house with her family denied he had been there and said she suspected Russian forces may have brought him there hours before announcing his death. Anna Politkovskaya, a prominent Russian columnist and expert on Chechnya, said she believed the house was blown up to destroy evidence.

The popular daily Moskovsky Komsomolets added to the speculation Tuesday, saying that forces loyal to Chechen Deputy Prime Ramzan Kadyrov could have captured, interrogated and killed Maskhadov in another location before bringing his body to Tolstoy-Yurt. It said the basement was not ventilated, making it highly unlikely that Maskhadov could have used it for shelter.




Today's Top News
Top World News

Law against secession to benefit Straits ties




Rice: US doesn't have a posture against China




Back words with action, Dalai told




July by-election will reveal new HK chief




Heilongjiang coal mine accident kills 17




Russia paid $10M for Maskhadov information