Search for regular and willing blood donors
By Zhang Feng (China Daily)
Updated: 2005-03-16 02:27
A nationwide drive to establish teams of regular voluntary blood donors highlights the desire for a safer and more reliable blood supply.
A regular voluntary donor is someone who gives blood at least twice a year and can be reached in an emergency, instead of just disappearing after a one-off donation, said Yi Mei, director of the Division of Blood Management at the Ministry of Health.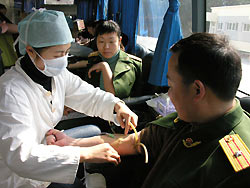 Border security troops donate blood in Wenzhou, East China's Zhejiang Province, March 14, 2005. [newsphoto]

"It is the key to solve problems such as temporary shortages in the clinical blood supply, planned voluntary donation and blood sale," Yi noted.

In China, blood donated by volunteers accounted for 91.3 per cent of total clinical blood consumption in 2004. The remainder still depends on people asking for payment for their blood.

While 71.5 per cent of the blood is given by volunteers who go to donation sites on their own, nearly 20 per cent is given by groups organized by employers planned voluntary donation.

China's goal is to gradually phase out blood selling within three years, Yi said.

"But it is not good for us to totally depend on people who freely and casually donate their blood; a comparatively steady team must be selected from these volunteers," said Ge Jinglan, spokeswoman of the Beijing Blood Centre.

Many cities, such as Beijing, still do not have such teams, and mainly depend on voluntary donation on the street, mostly done by university students, migrants and local residents who suddenly want to donate as they are shopping or taking a walk.

However, as university students and migrants go back home and local residents prefer to travel during holidays such as Spring Festival, these cities usually face a blood shortage.

This happened in Beijing, Nanjing, Guangzhou and many other cities during the Lunar New Year holiday this year, which started on February 9.

Several of China's regions and cities have set up such teams and 100 per cent of their blood is provided by volunteers.

For example, Taiyuan, capital city of Shanxi Province, has organized a team of more than 20,000 volunteers who have each donated blood three times and at least once annually.

The team has played a vital role in ensuring the clinical blood supply. A great advantage of such a team is that they can be contacted if hospitals need a large quantity of blood, such as if there is a large accident, said Xu Hong, spokeswoman of the Taiyuan Blood Centre.

Xu was echoed by Ge who says Beijing, which only has a team of about 240 volunteers who can donate blood of a rare type, will make a great effort in the future to organize a large and loyal donation team from amongst ordinary donors.

Beijing is organizing experts to draft an emergency plan on how to ensure enough blood storage and supply including various rare types during the 2008 Olympic Games period when thousands of people from different countries will travel to the city, Ge noted.

In China, there is a big obstacle to establishing regular donation teams as people often misunderstand blood donation.

"Many people believe that if you lose a drop of blood you cannot replenish it even if you eat 10 chickens," said Ge, adding that people may be brave enough to donate once, but no more.

"However, blood donation even makes me more energetic and younger than ever," said Yu Jinzhao, a Beijing-based 54-year-old civil servant who has donated blood 63 times.

He says that it is a pity the Law of Blood Donation says that people who are over 55 are not allowed to donate, meaning he will have to stop donating in June.

Blood selling has been a cause of the spread of HIV/AIDS in many rural areas of Henan, Shanxi and other provinces since the early 1990s as many farmers rushed to sell blood to illegal blood stations without any testing measures.

Fortunately, all these illegal blood stations were closed at the end of the 1990s, and now all blood, however donated, must pass tests for various viruses, including HIV.

In Central China's Henan, all blood in hospitals is now donated by volunteers.




Today's Top News
Top China News

Law against secession to benefit Straits ties




Back words with action, Dalai told




July by-election will reveal new HK chief




Heilongjiang coal mine accident kills 17




Russia paid $10M for Maskhadov information




Italy to pull troops from Iraq in Sept.