Heilongjiang coal mine accident kills 17
By Li Fangchao, Liu Wei (China Daily)
Updated: 2005-03-16 02:27
Seventeen miners were confirmed dead by local media yesterday in Qitaihe, Heilongjiang Province, following an explosion at a coal mine.
One miner was rescued while a fellow worker remained missing.
The blast happened at around 11 am on Monday at the Xinfu Coal Mine owned by the Heilongjiang Qitaihe Coal Industry Clean Coal Group.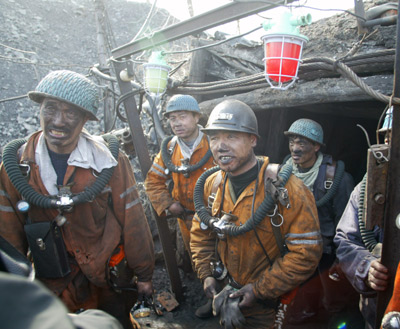 Exhausted rescuers looking for a missing miner emerge from a tunnel at Xinfu Coal Mine, where an explosion killed 17 miners on Monday in Qitaihe, Heilongjiang Province. [newsphoto]
The Heilongjiang Provincial Administration of Coal Mine Safety said 19 miners were working at the time.
A team of more than 240 rescuers was immediately dispatched to the site, with more on standby.
Sixteen dead bodies and the injured miner were quickly recovered from the working tunnel.
Another body was found in a separate collapsed section of the tunnel.
The surviving miner was rushed to hospital, but his injuries were not thought to be life threatening.
The rescue team was last night continuing to search for the missing miner.
An official from the administration said preliminary analysis suggested that the worker may also have been caught in the collapsed tunnel, and that his chance of survival was slim.
Liu Xueliang, vice-governor of Heilongjiang, was heading the rescue effort at the scene.
In another development on Monday, a food poisoning incident happened in Yongnian County, Hebei Province, affecting about 50 school students.
Sources at the local hospital said 47 students were admitted yesterday. They suffered nitrite poisoning after breakfast.
Both junior and senior middle school students from the county's No 8 Middle School were in a stable condition, said Liu Jie, a doctor at the Handan City No 1 People's Hospital.
Liu's hospital received 32 poisoned students, while the rest went to three other county hospitals.
Huang Tianhui from the school told China Daily that the students fell ill after eating sesame seed cakes bought from a nearby vendor.
They suffered headaches and fever, and had to be hospitalized immediately.
"Our dining room is too small, with inadequate service in the morning to satisfy that many students," Huang said.
Some students prefer to eat outside the school, choosing fast food and various local cakes.
The peddler selling the cakes was ordered to cease trading, and was being questioned by the local police.
Today's Top News
Top China News

Law against secession to benefit Straits ties




Back words with action, Dalai told




July by-election will reveal new HK chief




Heilongjiang coal mine accident kills 17




Russia paid $10M for Maskhadov information




Italy to pull troops from Iraq in Sept.