Accuser told Dean Jackson did nothing
(Agencies)
Updated: 2005-03-15 15:33
Under aggressive cross-examination, the teenage boy who says Michael Jackson molested him acknowledged Monday that the singer "was like a father to me," and that he told a middle school administrator that the pop star "didn't do anything to me."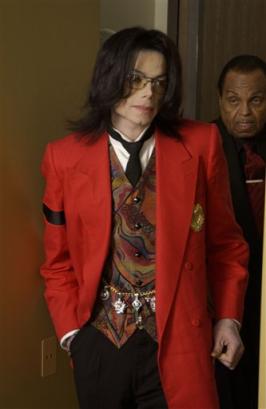 Michael Jackson and his father Joe Jackson, right, return from a break at the Santa Barbara County Courthouse in Santa Maria, Calif., Monday March 14, 2005 at the pop star's child molestation trial. [AP]


Striking at the heart of the prosecution's allegations of child molestation and conspiracy, defense attorney Thomas Mesereau Jr. confronted the now-15-year-old boy with a video tribute by the boy and his family in which they credited Jackson with changing their lives and helping to cure the boy of cancer.

The video had already been shown in the trial twice. This time, Mesereau stopped it repeatedly to ask if the boy and his family were lying. In most instances, the boy said they were speaking the truth.

"Michael was nice to me," he testified. "I felt like he was a father to me."

Prosecutors allege Jackson's associates had the boy's family make the video after the broadcast of an infamous documentary in which Jackson said he allowed boys to sleep in his bed. The prosecution claims the rebuttal video was staged and scripted.

Mesereau asked if the family turned on Jackson and invented the molestation story because they were being evicted from his Neverland ranch.

"We realized he wasn't as nice a guy as we thought he was," the boy said.

Earlier, the teenager was asked about conversations he had with Jeffrey Alpert, the dean at John Burroughs Middle School in Los Angeles, where the boy had a history of acting up in class.

"I told Dean Alpert he didn't do anything to me," the boy said. "I told him twice."

Prosecutors allege Jackson, 46, plied the boy with alcohol and molested him at his Neverland Ranch in 2003.

The pop star, who was threatened with arrest when he failed to show up in court on time Thursday, arrived on schedule Monday. Unlike last time, when a disheveled Jackson finally arrived in a coat, T-shirt and pajama bottoms, he wore a smart red jacket with a black armband and black slacks. His parents escorted him inside.

Mesereau, during his cross-examination, quoted Alpert as telling the youngster: "Look at me, look at me. ... I can't help you unless you tell me the truth ¡ª did any of this happen?"

When asked when the conversation occurred, the boy said: "I believe it was after I came back from Neverland."

It was not clear in court why the dean asked the boy about Jackson. However, when the television documentary aired in 2003, the boy was shown in it.

Also during cross-examination, the boy denied instances of being caught drinking wine at Neverland, reading "girlie magazines" and masturbating in a guest house while Jackson wasn't around. He also denied he ever spoke to Jay Leno, but said he once placed a call to the comedian from a hospital and left a message on an answering machine.

The defense, which claims the family sought to get money from celebrities, has said Leno alerted police after a call from the boy because he thought the family was looking for a "mark."

Mesereau also cross-examined the accuser about similarities between a statement he testified Jackson made about masturbation and an earlier statement the boy attributed to his grandmother.

On Thursday, the boy testified Jackson had told him if men do not masturbate, they might rape women. Mesereau noted the boy told sheriff's investigators in an interview his grandmother had told him the same thing.

"Why did your story change between that interview and your testimony last Thursday?" Mesereau asked.

The boy denied changing his story. He said both his grandmother and Jackson had told him the same thing, but the context was different.

"She was telling me it was OK to do it, and Michael was saying you have to do it," the boy said.

At he left court Monday, Jackson told reporters: "Mesereau did a great job."




| | |
| --- | --- |
| | |
| Quality actor Liu Ye to release photo album | |

| | |
| --- | --- |
| | |
| Tom Cruise tops living stars list | |

| | |
| --- | --- |
| | |
| Maggie Cheung in a commercial filming | |
Today's Top News
Top Life News

China's top legislature enacts historic law for peace




Anti-Secession Law adopted by NPC (full text)




Olympic torch expected to run through Taiwan




Law for peace wins worldwide support




German gets compensated for fake paintings




N.Korea says to develop more nuke weapons