Philippine police end prison siege, kill 22
(Agencies)
Updated: 2005-03-15 13:52
Police launched a major assault Tuesday on a maximum-security jail taken over by al-Qaida linked suspects, killing at least 22 inmates in a raid that began with a barrage of tear-gas canisters and bullets, officials said.
Interior Secretary Angelo Reyes said the dead included four leaders of the Muslim extremist Abu Sayyaf group, including the two men who headed a botched escape attempt Monday that left five others dead.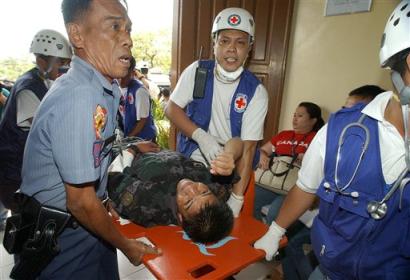 Rescuers carry a wounded policeman inside a hospital after he was hit during an assault inside a jail compound in suburban Taguig against armed suspected Abu Sayyaf prisoners on Tuesday March 15, 2005.[AP]

"The terrorists got what was coming to them," Ignacio Bunye, press secretary for President Gloria Macapagal Arroyo, said in a statement. "The crisis team gave them all the chances to peacefully surrender."

Sweat-soaked police marksmen filed out of the building after the assault to the applause of bystanders, escorting detainees stripped to their underwear and with hands clasped behind their heads.

"There were so many people, they were hiding in their cells," said Napoleon Cabrera, a police officer who led one of the assault teams.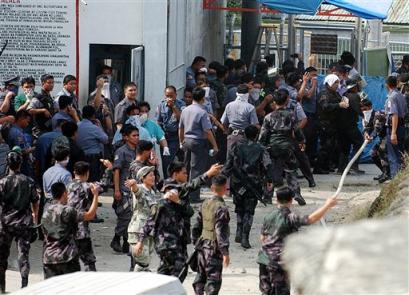 Filipino policemen run out after tear gas fills the air during an assault inside a jail compound in suburban Taguig, south of Manila, against armed suspected Abu Sayyaf prisoners on Tuesday March 15, 2005. [AP]

"Some were firing pistols, some were yelling because of the tear gas smoke," Cabrera said, adding that he got in a firefight with one rebel.

"I was hit in the leg. But I know he fell down," Cabrera said.

Metro Manila Police Chief Avelino Razon said 21 inmates were killed Tuesday. Five officers were wounded in the assault, described by Senior Superintendent Benjamin Magalong as "scary."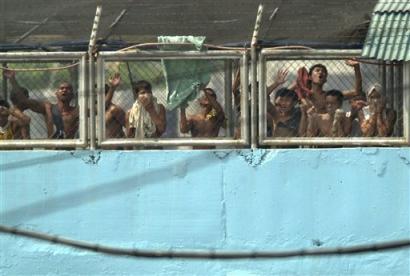 Filipino inmates shout for help as tear gas fills the air during an assault by policemen inside a jail compound in suburban Taguig, south of Manila, against armed suspected Abu Sayyaf prisoners on Tuesday March 15, 2005. [AP]

The raid began after authorities gave the inmates a 15-minute deadline to surrender ¡ª an ultimatum that came after hours of fruitless negotiations with the inmates.

Some detainees were seen scaling down the walls inside the compound as thick smoke billowed out. A police helicopter hovered above and ambulances waited for casualties.

The inmates had agreed to surrender after their failed jailbreak Monday, but the deal broke down when they demanded food first, prompting civilian negotiators to leave in frustration.

The jail has about 425 suspects, including 129 suspected members and leaders of the al-Qaida-linked Abu Sayyaf group, which is notorious for deadly bombings and ransom kidnappings in which some hostages were beheaded.

Reyes said among the dead Tuesday were three Abu Sayyaf leaders ¡ª Alhamzer Manatad Limbong, known as Kosovo; Ghalib Andang, known as Commander Robot; and Nadzmie Sabtulah, alias Commander Global. All three have been accused of involvement in mass kidnappings and other terror acts.

Detainee Hazdi Daie, a spokesman for the inmates, also was killed, Reyes said.

The identities of the other 18 fatalities were not immediately known, police officials said.

President Gloria Macapagal Arroyo called and "said that she is congratulating the forces involved for a job well done, but she lamented" the casualties, Reyes said.

"We don't shoot innocent people. They were armed, they fired at us and we fired back," he said.

The crisis began when suspected Abu Sayyaf members overpowered and stabbed their guards, then took their pistols and ammunition, Razon said. A shootout ensued.

At least three guards and two Abu Sayyaf members were killed in the initial escape attempt, police said.

Police spokesman Leopoldo Bataoil said about 10 men were involved in the uprising, led by Limbong and Kair Abdul Gapar, a kidnap-for-ransom suspect.

Limbong was allegedly involved in a mass kidnapping in 2001-02 that left several hostages ¡ª including two Americans ¡ª dead, and a ferry bombing a year ago that killed more than 100 people in the Philippines' worst terrorist attack.

A number of Abu Sayyaf suspects have escaped from Philippine jails, which are often dilapidated, with inadequate and sometimes corrupt staff.

State prosecutor Peter Medalle, who is handling several cases involving the Abu Sayyaf, said jail guards were tipped off about a possible prison break three weeks ago from an intercepted mobile phone conversation between Limbong and Abu Sayyaf leader Abu Solaiman.

"We warned them repeatedly ... as late as last week of the planned escape. Apparently, our warnings were ignored," he said.

Two years ago, a top terror suspect, Indonesian Fathur Rohman Al Ghozi, escaped from Manila police headquarters while serving a 12-year term for possession of explosives. He was killed in a shootout with police a few months later.

In April, more than 50 inmates, led by suspected Abu Sayyaf guerrillas, used a smuggled pistol to flee from a jail on southern Basilan island. In December, a Filipino suspect who was being interrogated about a bomb found on a bus was fatally shot at a Manila detention center after allegedly killing a guard.




Today's Top News
Top World News

National People's Congress enacts historic law for peace




Anti-Secession Law adopted by NPC (full text)




Olympic torch expected to run through Taiwan




German gets compensated for fake paintings




N.Korea says to develop more nuke weapons




Philippine police end prison siege, kill 22