Russia razes site of Maskhadov's killing
(Agencies)
Updated: 2005-03-15 10:29
Russian authorities said Monday they blew up the house where Chechen rebel leader Aslan Maskhadov was killed last week because they feared booby traps, but critics questioned the motive.
Col.-Gen. Arkady Yedelev, chief of the federal headquarters for the campaign in Chechnya, said demolition experts inspecting the bunker had discovered and detonated a box that contained documents and was ridden with explosives.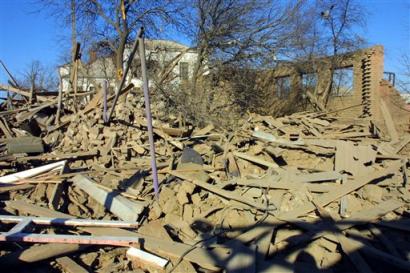 A general view of what is left of the house, where rebel leader Aslan Maskhadov was killed last week in Tolstoy-Yurt, a village in the northern sector of Chechnya, Monday, March 14, 2005. Authorities have blown up the house where rebel leader Aslan Maskhadov was killed last week in a special operation, witnesses and officials said Monday.[AP]

"The team of investigators decided to blow up the entire house to avoid such surprises in the future," Yedelev said in a statement.

Rights activists and government critics, however, suggested the blast could have been meant as punishment for the family that allegedly sheltered the rebel leader or an attempt to cover up sensitive evidence.

Russian authorities said Maskhadov, 53, was killed during an operation by its forces last Tuesday in a basement bunker where he had been hiding, although accounts of how he died have varied.

Yakha Yusupova, who lived in the house with her family, denied the rebel leader had been there and said she suspected Russian forces may have brought him on Tuesday.

Anna Politkovskaya, a prominent Russian columnist and an expert on Chechnya, said the destruction of the house apparently was intended to destroy any evidence that could cast doubt on official accounts of the killing.

"There is nothing left now to question the official version of events," Politkovskaya said in an interview.

Alexander Petrov of Human Rights Watch's Moscow office said federal authorities in the past had blown up houses in Chechnya that belonged to militants who participated in terror attacks. The practice has drawn strong criticism from international rights groups, he said.

"If the authorities blew up the house to punish the house owners, it's a bad move," Petrov said.

Meanwhile, Russian human rights activists joined Maskhadov's family in calling on authorities to return his body for burial.

"Refusing to hand over the body to the relatives of the deceased is a shame," representatives of three groups said in a statement cited by the Interfax news agency.

They also criticized security services for killing Maskhadov instead of capturing him.

"Considering the technical equipment special forces have, Maskhadov could have been captured alive and could have stood trial," they said.

Maskhadov led the separatist forces in Chechnya that fought the Russian army to standstill in 1996, then was elected president of the republic when the Russians withdrew.

The Kremlin consistently blamed Maskhadov for involvement in terrorist attacks, such as the Beslan school siege in September in which more than 330 people died, half of them children, and a hostage seizure at a Moscow theater in 2002 that killed 129 people. Maskhadov denied any involvement.

His death leaves the separatist insurgency largely in the hands of Shamil Basayev.

Also Monday, militants fired grenades at a military commandant's office in the Chechen capital, Grozny, wounding eight, said Sergei Kozhemyaka, a spokesman for the regional branch of Russia's Emergency Situations Ministry.

The Interfax-Military News Agency cited unnamed Chechen law enforcement officials as saying the shooting resulted from careless handling of a grenade-launcher by a Russian serviceman. Twelve servicemen, one policeman, and two civilians were injured, it said.

The varying accounts of the incident underlined the fractious nature of law enforcement in Chechnya, where responsibility ¡ª and blame ¡ª is divided among numerous, often rival Chechen and federal agencies.

In neighboring Dagestan on Monday, authorities killed two militants and captured two others who had holed up in a house in the village of Nuradilovo, the regional Interior Ministry said. The 7-year-old daughter of the house's owner was killed and two officers were wounded, the ministry said.

Federal forces and police fought with two militants in another private house, in the city of Khasavyurt, Dagestani Interior Ministry spokesman Abdul Musayev said.

Flames and smoke poured from the house after a heavy exchange of fire, and Interfax reported the militants tried to escape. Late at night, Musayev said the operation was continuing, and it was unclear whether the militants had been killed, escaped or were still in the house.

Russian forces pulled out of Chechnya after a 20-month war in 1994-1996. They returned in September 1999 after Chechnya-based rebels raided a neighboring province and after a series of apartment building explosions blamed on the militants.




Today's Top News
Top World News

National People's Congress enacts historic law for peace




Anti-Secession Law adopted by NPC (full text)




Olympic torch expected to run through Taiwan




Wen addresses press conference (full text)




German gets compensated for fake paintings




Tighter rein on law enforcement demanded