Israel agrees to start delayed West Bank pullback
(Agencies)
Updated: 2005-03-15 09:39
Israel agreed on Monday to begin the long delayed handover of three West Bank cities to Palestinian control on Wednesday, Palestinian and Israeli officials said.
The decision emerged only hours before a planned meeting of Palestinian factions in Cairo at which President Mahmoud Abbas will try to get militants to finalize their offer of a ceasefire with Israel.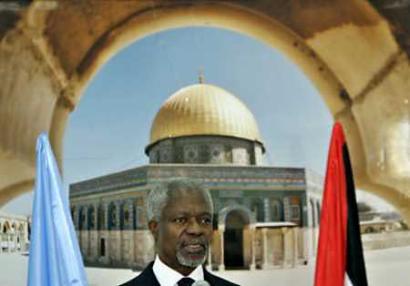 U.N. Secretary-General Kofi Annan speaks at a news conference at the Palestinian Authority headquarters in the West Bank city of Ramallah on March 14, 2005. Annan met Palestinian President Mahmoud Abbas on Monday and said the world was determined to nurture Middle East peace moves budding after years in deep freeze.[Reuters]

Militant leaders had said earlier they would agree to a truce only if Israel freed more Palestinian prisoners and began withdrawing soldiers from Palestinian cities that Israel had reoccupied during the last four years of violence.

Israeli political sources said Israel had agreed at a separate meeting on Monday to be more flexible about releasing Palestinian prisoners from Israeli jails.

Israel had pledged to hand over five West Bank cities before a Feb. 8 peace summit in Egypt, but delayed because of disagreement over the scope of a pullback and because of a Feb. 25 suicide bomb attack that killed five Israelis in Tel Aviv.

But at a meeting near Tel Aviv on Monday, Israeli Defense Minister Shaul Mofaz and Palestinian Interior Minister Nasser Youssef agreed Israel would withdraw troops from the West Bank town of Jericho on Wednesday, defense ministry officials said.

Israel will hand over a second West Bank town, Tulkarm, next week, and a third, Qalqilya, the following week, they said.

Saeb Erekat, the chief Palestinian negotiator, said Israel also agreed to let Palestinian police armed with pistols enter a village north of Jericho and agreed not to hunt down wanted Palestinians living in Jericho.

Israeli officials said Israel would remove one of two disputed checkpoints near Jericho, and Erekat said Israel had said it would remove the other roadblock in another month.

The meeting in a Tel Aviv suburb followed several unsuccessful attempts to reach agreement in the past two weeks.

Israel handed over the three towns to the Palestinians under an interim peace deal a decade ago but then reoccupied them during the last four years of conflict.

FLEXIBLE ON PRISONER RELEASES

At a separate meeting in Jerusalem, Israel agreed to be more flexible about a promised release of Palestinian prisoners, Israeli political sources said.

They said Justice Minister Tsipi Livni had pledged for the first time to "study" a Palestinian request for the release of Palestinians convicted by Israeli courts of involvement in attacks on Israel.

Israel has long refused to even consider freeing prisoners with "blood on their hands."

At the meeting Sufian Abu Zaideh, the Palestinian Minister for Prisoner Affairs, had asked for the release of prisoners jailed for attacks carried out before the interim peace accord.

Israel has so far freed 500 of a promised 900 prisoners. Palestinians say there are some 8,000 Palestinians in Israeli jails.

Israeli Prime Minister Ariel Sharon earlier rejected the militant leaders' statement in Cairo that they were ready to offer a formal ceasefire if Israel fulfilled promises to free prisoners and withdrew troops from Palestinian cities.

Sharon said the offer of a temporary truce was unacceptable because militants would not be giving up what he called "the terror option," according to a statement released by his office.

He also repeated a demand supported by a U.S.-backed peace plan that Abbas dismantle militant groups rather than negotiate with them.

Abbas, a moderate elected in January to succeed Yasser Arafat, is trying to persuade militant groups to abandon violence through dialogue, fearing a confrontation could spark civil strife.

U.N. Secretary-General Kofi Annan told Abbas at a meeting in the West Bank city of Ramallah that "the international community is determined to work with both sides to press for the implementation of the road map" and gain Palestinian statehood.

Annan, on his first visit to the region in almost four years, went to the West Bank after talks with Sharon on Sunday in Jerusalem. He will attend the opening on Tuesday of Israel's revamped Holocaust museum.




Today's Top News
Top World News

National People's Congress enacts historic law for peace




Anti-Secession Law adopted by NPC (full text)




Olympic torch expected to run through Taiwan




Wen addresses press conference (full text)




German gets compensated for fake paintings




Tighter rein on law enforcement demanded