4 new members added to top military body
(Xinhua)
Updated: 2005-03-14 09:29
China added four new members to the state Central Military Commission (CMC) in Beijing Monday after the National People's Congress, China's parliament, ratified a nomination of members for the top military commission by its chairman Hu Jintao.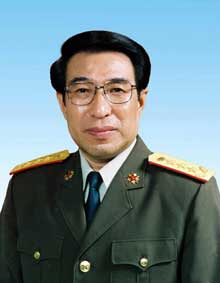 Xu Caihou. [Xinhua]

Xu Caihou, a former state CMC member, was promoted to vice-chairman of the state top military commission.

The four new members were Cheng Bingde, 63, director of the Chinese PLA General Armament Department, Qiao Qingchen, 65, commander of the Chinese PLA Air Force, Zhang Dingfa, 61, commander of the Chinese PLA Navy and Jing Zhiyuan, commander of the Chinese PLA Second Artillery Force.

The commanders of China's navy, air force and second artillery force entered the state CMC for the first time in history, signaling a new concept of the development of China's national defense.

"It reflected the concept to strengthen the building of China'snavy, air force and second artillery force in a time when the elements and forms of modern warfare has greatly changed," said Chen Zhou, a professor with the Chinese Military Academy of Sciences.

The idea to strengthen the building of the navy, air force and second artillery force has been stressed in a white paper China released late last year.

Xiong Yuxiang, a military expert who participated in drafting the white paper, said with the incessant development of new and high technology in military, the elements of modern warfare have changed a lot.

"We must change according to the modern warfare status," said Xiong. "In the future, the military will be improved in the direction of making the troops smaller but better, more integratedbut more efficient."

As Jiang Zemin resigned from the chairmanship of the state CMC last week, the top military commission now has 11 members, including Chairman Hu Jintao, Vice-chairmen Guo Boxiong, Cao Gangchuan and Xu Caihou, and seven other members.

Cheng Bingde, Qiao Qingchen, Zhang Dingfa and Jing Zhiyuan became members of the CPC Central Military Commission last year.






Today's Top News
Top China News

Top legislature passes Anti-Secession Law




Anti-Secession Law adopted by NPC (full text)




Premier Wen talks about economy, Taiwan




Chinese scientists conduct HIV vaccine test




Court gets back power of death reviews




4 new members added to top military body