Saudi police kill suspected militant
(Agencies)
Updated: 2005-03-14 08:52
Saudi police killed an alleged Islamic militant and arrested three others Sunday in a shootout at a suspected terror cell hideout in the Red Sea city of Jiddah, the Interior Ministry said.
Security forces had sought one of the people arrested for allegedly belonging to a "deviant group," a term Saudi authorities commonly use to refer to Osama bin Laden's al-Qaida terror network.
The clash was the latest in a 2-year-old crackdown on Islamic militants by the Saudi monarchy, which has been struggling to end suicide bombings and terror attacks on security and Western targets.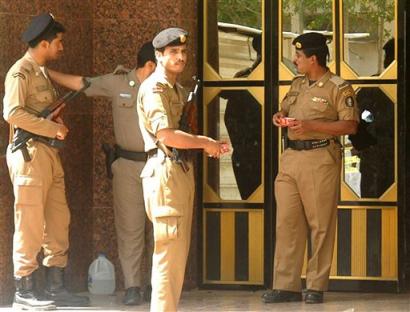 Saudi police stand guard outside the apartment building that Saudi security forces raided in the Red Sea city of Jiddah, Sunday, March, 13, 2005. Saudi police killed a suspect Islamic militant and arrested three others in a shootout Sunday on a suspected terror cell hideout in the city. [AP]

The suspected militants were holed up in a residential apartment building in Jiddah's Rabwa district, the Interior Ministry said in a statement carried by the official Saudi Press Agency.

Thirteen policemen and a man and his wife were wounded in the shootout. The woman died later at a hospital.

The shootout prompted the U.S. consulate general in Jiddah to delay its Independence Day celebration, originally set for March 14. The U.S. Embassy and consulates in Saudi Arabia traditionally host such celebrations in the spring or fall rather than on July 4 due to Saudi's hot summer weather.

Worries in Jiddah have been high since the U.S. consulate was attacked Dec. 6. Five foreign consulate employees and four attackers died in the ensuing gunfight between militants and Saudi security forces.

Last week, the U.S. Embassy warned American citizens living in a residential compound there to be on high alert, and some Americans then left.

Saudi Arabia has waged a nationwide crackdown since al-Qaida-linked militants attacked three residential compounds in Riyadh in May 2003. Officials this month said they have detained 700 terror suspects, including 18 of the 26 most wanted men in the kingdom. Numerous suspects also have died in raids or clashes.




Today's Top News
Top World News

Chinese scientists conduct HIV vaccine test




Court gets back power of death reviews




Perform vital mission, Hu tells military




Safety watchdog to be given more power




Wen lauds Tung's role in HK's development




EU firm on ending China arms embargo