Chinese scientists conduct HIV vaccine test
By Zhang Feng and Qin Yan (China Daily)
Updated: 2005-03-14 06:25
China has begun the first phase of testing an HIV vaccine.
Eight volunteers were injected with either an HIV vaccine or a placebo that is free of the virus on Saturday in Nanning, South China's Guangxi Zhuang Autonomous Region, reported Xinhua News Agency.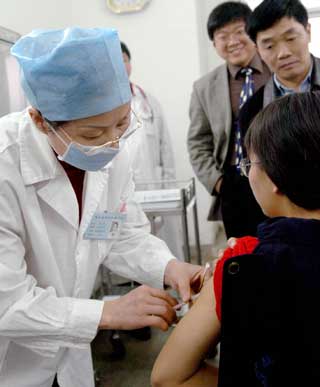 A woman volunteer gets a dose of HIV/AIDS vaccine in Nanning, Guangxi Zhuang Autonomous Region on March 12, 2005. [Xinhua]

The eight, four men and four women, did not show any unhealthy symptoms during a 50-minute clinical observation after their injections, Xinhua said.

Neither the volunteers nor the doctors knew whether the injections were vaccines or placebo, according to Xinhua. This is a usual practice in clinical tests. AIDS or HIV cannot be caught from the vaccine.

Chen Jie, head of the Guangxi Centre for Disease Control and Prevention, told Xinhua News Agency that 49 healthy and HIV-free volunteers between the ages of 18 and 50 had been selected for the first phase of clinical tests.

The clinical experiment will have three phases, with the first lasting for 14 months, according to Xinhua.

The State Food and Drug Administration approved the first phase test last November. The whole experiment was designed by more than 20 Chinese experts in clinical experiments and vaccines.

One of the volunteers, college student Xiao Chen, told the Beijing Youth Daily the work was honourable and his classmates and teachers all supported him.

But he did not tell his family, concerned they would not understand.

"It is not hopeless, but we are a long way from an effective vaccine," said Ray Yip, director of the Beijing office of the Global AIDS Programme of the United States.

Unlike SARS (severe acute respiratory syndrome) or hepatitis, the HIV virus changes quickly not only in the body of a person but also as it moves from one person to another person, he noted.

Under these circumstances, it is hard for scientists to find a vaccine to curb it, he said.

Over the past few years, dozens of groups of scientists have carried out HIV vaccine experiments both on animals and humans.

However, none has succeeded in finding an effective antibody in any of the volunteers although a lot of money and time has been spent, Yip said.

"China's capability in vaccine research and production is not bad, but it has only taken the first step in the HIV virus vaccine clinical test," he said.

With a population of nearly 1.3 billion, China has an estimated 840,000 HIV carriers.




Today's Top News
Top China News

Chinese scientists conduct HIV vaccine test




Court gets back power of death reviews




Hu Jintao elected chairman of state CMC




Perform vital mission, Hu tells military




Safety watchdog to be given more power




Wen lauds Tung's role in HK's development