Private airline launches 1st flight
(Agencies)
Updated: 2005-03-12 08:57
China's first private airline launched its maiden flight Friday, opening a new chapter for efforts to modernize the country's booming air travel industry.
The Okay Airways Co. Boeing 737-900, with 81 people aboard, flew from the airline's base in the northern city of Tianjin to Kunming, a popular tourist spot in the mountain southwest.
"Everything went just as we desired," said Han Jing, a spokesman for the airline. "The first flight was very successful."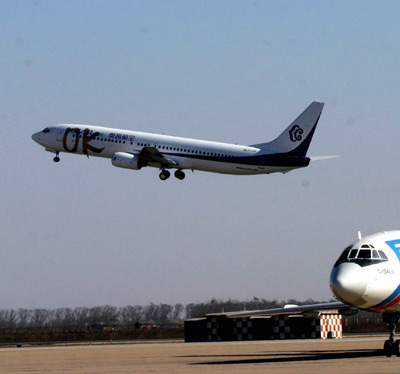 The first passenger flight of Okay Airways takes off at 9:00am from Binhai International Airport in Tianjin March 11, 2005. [newsphoto]
China also has approved the launch of three other privately owned carriers as it tries to build up modern airlines able to compete with bigger, established foreign rivals.
Aircraft makers ranging from U.S.-based Boeing Co. and Europe's Airbus SA to Brazil's Embraer are looking to China to drive sales as its 1.3 billion increasingly prosperous people take to air travel.
Okay says it will fly six Boeing 737 aircraft, focusing on domestic charter flights, cargo and express delivery services. The aircraft carry the English letters "OK" in gold on their white fuselages.
The airline said its president, Sui Mingguang, was at the controls for the 4 1/2-hour maiden flight, which included a stop in the central city of Changsha.
Okay is owned by investors from Beijing and the southern financial center of Shenzhen, near Hong Kong.
China began easing restrictions on private investment in airlines in early 2004.
Other private airlines are to debut in coming months — Shanghai-based Spring International Airlines; Eagle Airlines, in the southwestern city of Chengdu, and Huaxia Airlines in northwestern China's Gansu province.
China's airlines have gone through wrenching changes since the government broke up its monopoly carrier in the early 1990s, creating more than a dozen regional carriers.
Major state-owned carriers such as Shanghai-based China Eastern and China Southern in the southern business capital of Guangzhou invested in fleets of modern Boeing and Airbus jets, with frequent-flier programs, multilingual flight attendants and international route networks.
Beijing, Shanghai and dozens of other cities built gleaming, futuristic airports.
But a glut of competitors sparked a price-cutting war, driving many to the brink of bankruptcy. In response, regulators have forced airlines to merge into three large groups, hoping to create competitors big and strong enough to face foreign airlines.
Sharp cutbacks in routes flown by Chinese carriers have created openings for Okay and other competitors.
A forecast by Boeing says Chinese airlines will spend $183 billion on aircraft over the next 20 years.
In the latest deal, six Chinese airlines signed an agreement in January to buy 60 of Boeing's new 787 jetliners for a total of $7.2 billion.
Today's Top News
Top China News

Political parties find their feet at grassroots




Tainted red food dye found in 9 provinces




Three shot dead at Atlanta trial; gunman flees




Chinese entrepreneurs head rich list




Private airline launches 1st flight




US doctors treat Yushchenko for poisoning