Boy tells of abuse by Jackson
(Agencies)
Updated: 2005-03-11 21:27
SANTA MARIA, Calif.- A teenage boy testified on Thursday that Michael Jackson masturbated him at least twice after nights of heavy drinking -- testimony that capped a bizarre day in which the pajama-clad pop icon was nearly jailed for missing court.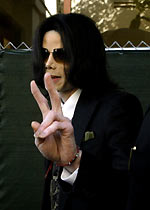 Michael Jackson gestures as he departs the Santa Barbara County Superior Court March 9, 2005 in Santa Maria, California. [Reuters]

The 15-year-old boy calmly told jurors that during his extended stay at Jackson's Neverland Valley Ranch, the singer had foisted wine and hard liquor on him and twice molested him under the guise of showing him how to masturbate, which Jackson said was a necessary and natural act.

Though the testimony is at the heart of the sensational trial, it was partly overshadowed when the judge ordered Jackson's arrest because he failed to arrive on time. He turned up about an hour later dressed in pajamas, appearing dazed and walking gingerly, as if he were in great pain.

Though Jackson hobbled into court a few minutes past a deadline set by Superior Court Judge Rodney Melville, the judge canceled an arrest warrant and allowed the 46-year-old superstar to remain free on $3 million bail.

A Jackson attorney later explained that the self-styled "King of Pop" had tripped while getting dressed for court, injuring his back, and had gone to a hospital for treatment. "He was in terrible pain. He was in terrible discomfort during the entire proceedings," lawyer Brian Oxman said.

With Jackson sitting at the defense table, wearing a black blazer over his blue pajama pants and white T-shirt, the boy at the center of the case told jurors that the entertainer had twice molested him -- and may have done so on other occasions that he could not clearly remember.

"In my memory it was only twice that I know for sure," he said in response to questions from Santa Barbara County District Attorney Tom Sneddon. "I feel it was more than twice but it was only solid in my mind twice."

A NIGHT OF DRINKING

The boy said the first incident came in the weeks following the February 2003 broadcast of a British documentary about Jackson when they were in pop star's bed after a night of drinking at his ranch.

"Michael started talking to me about masturbation," he said. "He told me that if men don't masturbate they might get to a level where they might rape a girl ... He said that once he was looking over a balcony and he saw a boy who didn't masturbate who had sex with a dog."

The boy, who was a 13-year-old cancer survivor at the time, said Jackson then said he would show him how to masturbate.

"He put his hands in my pants and he started masturbating me," the boy said, adding that he "felt weird" about it but that Jackson told him it was "OK and natural."

The boy said the second molestation followed a day or so later, when they were watching television. That incident followed a similar pattern except that about midway through Jackson tried to get him to reciprocate.

"He kind of grabbed my hand to do it to him and I pulled my hand away, I didn't want to do it to him," he said.

Earlier, the boy testified that Jackson first gave him wine, concealed in a Diet Coke can and called "Jesus juice" by the singer, in a Miami hotel room on the night the documentary was broadcast in the United States.

Pulling him into a separate room in his hotel suite, the boy said, Jackson "gave me another little audition, like he was the principal of the school and if a girl said I had done something bad. I was the student who got in trouble."

The boy said Jackson had him drink more wine in a soda can on the plane ride back to California, asking him not to tell anyone about the alcohol, and gave him a jacket and a watch that the entertainer said was worth $75,000.

At Neverland, the boy said, Jackson showed him pornography and served him wine, rum, vodka and bourbon, even though he had lost a kidney to cancer and told the singer at least three times that alcohol was bad for him.

He said that his mother was "scared" of two Jackson associates who were among those pressuring the family to go to Brazil following the broadcast of the documentary.




| | |
| --- | --- |
| | |
| Brad Pitt, Jennifer Aniston 'back together' | |

| | |
| --- | --- |
| | |
| Anita Mui eternal in wax, and loving memory | |

| | |
| --- | --- |
| | |
| Zhou Xun as magazine cover girl | |
Today's Top News
Top Life News

Political parties find their feet at grassroots




Tainted red food dye found in 9 provinces




Three shot dead at Atlanta trial; gunman flees




US: N.Korea throws up smoke screens




Chinese entrepreneurs head rich list




Private airline launches 1st flight