Agent Orange plaintiffs condemn US court
(Agencies)
Updated: 2005-03-11 15:10
Vietnamese Agent Orange victims have angrily condemned a US court's dismissal of their lawsuit accusing a string of US chemical firms of crimes against humanity and pledged to continue their legal battle.
A New York judge threw out the case, filed on behalf of millions of Vietnamese harmed by the war-era defoliant, on Thursday, saying it had no basis in law.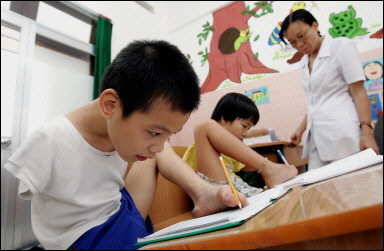 10-year-old Tran Binh Minhn (L) and 11-year-old Pham Thi Thuy Linh, both Agent Orange victims and handicap, learn to write with their feet at the Peace Village in Tu Du hospital in Ho Chi Minh City. Victims have angrily condemned a US court dismissal of their lawsuit against a string of US chemical firms alleging crimes against humanity. [AFP/File]

"It is a wrong decision, unfair and irresponsible," said Nguyen Trong Nhan, vice president of Vietnam's Association for Victims of Agent Orange (VAVA), saying the legal fight would continue.

"This is just another war that could be long and difficult, as was the Vietnam war. We are determined to pursue it until the very end, until the day we will be able to ask for justice," he told AFP.

Agent Orange was used by the US Army in the 1954-1975 Vietnam War to clear the jungle and prevent enemy forces from being able to use the dense foliage for cover.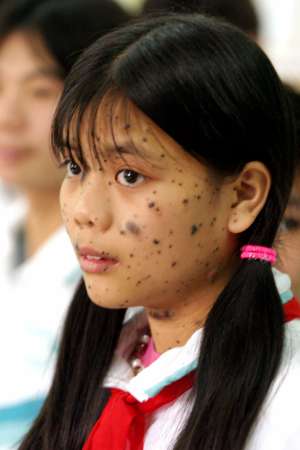 A Vietnamese Agent Orange victim looks on at Hoa Binh (Peace) village, a hospice for Agent Orange victims in Hanoi on December 14, 2004. Picture taken on December 14, 2004.[Reuters/file]

The lawsuit, against firms including pharmaceutical giants Monsanto, Dow Chemical and Hercules Incorporated, won mass support in Vietnam where 11.5 million people signed a petition, according to official figures.

Heart-rending pictures such as a child with a distorted face, a legless woman walking on her hands and two babies fused together in a single body have hit Vietnamese newspapers in recent weeks.

But district court judge Jack Weinstein said there was no law that could enforce the plaintiffs' claim that the firms were guilty of crimes against humanity for making Agent Orange available.

"There is no basis for any of the claims of plaintiffs under the domestic law of any nation or state or under any form of international law. The case is dismissed," the judge said.

The US-based Fund for Reconciliation and Development (FRD) said the judge's decision made it easier for the United States to "continue to evade moral responsibility for the consequences of its actions."

"Regardless of how much chemical companies and the US government knew about the poisonous dioxin... they should not hide behind legal and scientific technicalities to avoid facing their obligation...," FRD Executive Director John McAuliff said.

In theory, the decision can be appealed and then taken to the US Supreme Court.

Some Vietnamese experts believe an appeal could be possible on the legal precedent of a 1984 class action settlement, when manufacturers agreed to pay 180 million dollars to US war veterans who died or became ill after exposure to defoliants.

"If the medical files (of Vietnamese victims) are not convincing enough, we will use the ones of the American soldiers," said in Tuoi Tre newspaper Professor Ngo Thanh Nhan, who participated in the campaign to drum up support for the case.

"There's no reason why those who sprayed chemical products got compensation for their contamination... and the direct victims' suit is rejected by an American court."

Several Vietnamese papers condemned the decision.

"It is not only a legal matter. The two aspects, legal and moral, have to be examined," said Nguyen Van Tuan, an Australian scientist of Vietnamese origin, in the Tuoi Tre newspaper.

"The US are today the first world power... and they have to admit their fault... and take concrete measures to reduce the pain of millions of victims in the country."

"We wonder why the United States allow themselves to teach Vietnam lessons about human rights as they try to avoid their responsibilities...," said the People's Army mouthpiece, Quan Doi Nhan Dan.

In September, the US State Department singled out Vietnam as a "country of particular concern" over its abuse of religious freedom.




Today's Top News
Top World News

Tung Chee-hwa resigns as HK chief executive




Steps to narrow rich-poor gap needed




Money talks in capturing drug suspect




Farming sets goals to raise productivity




Peninsula likely to top Rice's first visit




Suicide bomber kills 47 at Iraq funeral