Tung Chee-hwa resigns as HK chief executive
(China Daily/chinadaily.com.cn)
Updated: 2005-03-11 10:42
HONG KONG: Chief Executive Tung Chee-hwa announced yesterday that he has officially submitted his resignation to Beijing citing health problems.
At a press conference in Hong Kong, Tung, two years into his second term in office, said he had tendered his resignation just one hour before making his decision public.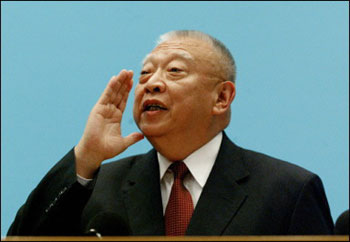 Hong Kong Chief Executive Tung chee-hwa gestures during a press conference at the Central Government Offices (CGO) building in Hong Kong, 10 March 2005 announcing his resignation. Hong Kong's leader Tung Chee-hwa submitted his resignation March 10, citing health reasons for stepping down early. [AFP]


"My health was obviously not as good as it used to be because of long- time hard work," said Tung.

Tung said on Thursday that according to law, Chief Secretary Donald Tsang would serve as his interim replacement. However, Tung could not confirm whether Tsang would serve the remaining two years of his unfinished term, or the full five-year period of a chief executive.

Tsang, 60, is a 38-year civil service veteran. The chief secretary for administration will be acting chief executive for six months until Hong Kong's Election Committee picks an official replacement, according to the Basic Law.

The 60-year-old Tsang is known internationally for his role in defending the Hong Kong dollar's peg to the U.S. currency in 1998 amid the Asia financial crisis from attacks by hedge funds he dubbed ``crocodiles.''

Speculative hedge funds were rebuffed when Hong Kong, backed by then Chinese Premier Zhu Rongji, spent HK$118 billion ($15 billion) buying stocks and futures to defend the peg. Tsang was appointed chief secretary, the city's top civil servant, in 2001.
On Thursday, Tsang held a brief press conference after Tung's resignation announcement, saying he hoped people would respect the former leader's decision.

``I will certainly feel a sense of loss,'' Tsang said.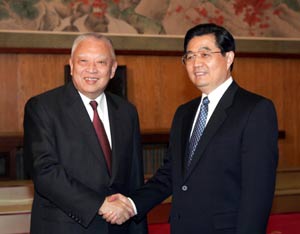 President Hu Jintao (R) meets with Tung Chee Hwa in Beijing March 5, 2005.[Xinhua]

Tsang, married and with two children, grew up in Hong Kong's Central police station where his father was a policeman, and had only completed a secondary education when he started in the civil service in 1967, after two years as a salesman for U.S. drugs company Pfizer Inc.

Tsang completed a Master's degree in public administration from Harvard University in 1981. He became the first Hong Kong Financial Secretary in 1995, when Christopher Patten was Hong Kong's last governor.

``He is seen as the leading candidate and people expect him to run,'' said Joseph Cheng, a political science professor at City University of Hong Kong. ``There will be keen competition: Henry Tang the Financial Secretary among others will likely run.''

Tung will be in Beijing Friday to attend the third session of the 10th National Committee of the Chinese People's Political Consultative Conference (CPPCC) until it wraps up tomorrow.

At the news conference, Tung stressed that for the overall interests of the Hong Kong Special Administrative Region and the nation, he had decided to submit his resignation .

He expects the central government to consider and accept his request.

Tung stressed that it had been a lifetime pleasure for him to render service for the nation and Hong Kong in the post of chief executive.

He thanked Hong Kong's citizens for the opportunities they had given and central government for the trust they placed in him during his term of office.

Tung, 67, was elected as the first chief executive of the Hong Kong Special Administrative Region in December 1996, and re-elected for a second term in February 2002.

He was inducted as a member of the 10th National Committee of the CPPCC on February 28, 2005.




Today's Top News
Top China News

Farming sets goals to raise productivity




Tung Chee-hwa resigns as HK chief executive




Steps to narrow rich-poor gap needed




Peninsula likely to top Rice's first visit




Money talks in capturing drug suspect




Suicide bomber kills 47 at Iraq funeral