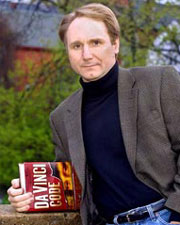 Dan Brown in 2003, about the time of "The Da Vinci Code's" release.
Two years ago this month, Doubleday published a historical thriller with an announced first printing of 85,000 and high hopes that a little-known writer named Dan Brown would catch on with the general public.
"We surely expected to have a huge success, but I don't think anyone dreamed it would become a historic publication," says Stephen Rubin, president and publisher of the Doubleday Broadway Publishing Group.
If the "Harry Potter" books stand as the essential popular read for young people, then "The Da Vinci Code" has captured the crown for grown-ups. A word-of-mouth sensation from the moment it came out, Brown's controversial mix of storytelling and speculation remains high on best-seller lists even as it begins its third year since publication.
Twenty-five million books, in 44 languages, are in print worldwide and no end is in sight. Booksellers expect "The Da Vinci Code" to remain a best-seller well into 2005. A planned film version by Oscar-winning director Ron Howard should bring in even more readers. And at a time when consumers are supposedly minding their budgets, sales for the $24.95 hardcover have been so good that Doubleday still has set no date for a paperback .
"It's been our No. 1 fiction book for two years in a row, and I can't remember another time that happened," said Bob Wietrak, vice president of merchandising for Barnes & Noble Inc. "People come into our store all the time and ask for it or ask for books that are like it."
Thanks to "The Da Vinci Code," about the only books that seem able to keep up are Brown's previous novels. "Deception Point," first released in 2001, now has 3.7 million copies in print, according to Simon & Schuster, Brown's previous publisher. "Angels and Demons," published in 2000 and featuring "Da Vinci" protagonist Robert Langdon, has more than 8 million copies in print.
The unprecedented success of "The Da Vinci Code" has been helped by wide access, with the book on sale everywhere from Wal-Mart to airports to supermarkets, often proving more popular than the mass market paperbacks available at the same outlets.
"The Da Vinci Code" has also thrived during a time when both literary and commercial novels struggled, when a tight economy, competition from other media and election-year tensions drove the public to nonfiction works or away from books altogether. Publishers and booksellers say Brown's novel has worked by combining narrative excitement and provocative -- and disputed -- historical detail.

(BBC)
就在两年前的这个月,美国多布尔戴公司出版了一部历史题材的恐怖小说,据称首印量为八万五千册。这部小说的作者是丹·布朗——一位不太有名的作家,出版商殷切希望他的这部作品能俘获大众的心。
"我们当然期望(这本书)能够获得巨大的成功,但我想大家做梦都没想到它居然成为一部历史性畅销书。"多布尔戴百老汇出版集团总裁、出版商斯蒂芬·鲁宾说。
如果说《哈里波特》系列从书代表了年轻人的主流阅读趣味,那么《达芬奇密码》就赢得了成年人的青睐。布朗的小说把讲故事和推理以一种有争议的方式结合起来,从问世之初就广为流传,引起轰动一片,一直高居畅销书榜前列,尽管这本书出版至今已经是第三年了。
《达芬奇密码》被译成44种语言在全球范围内出版,总印量达到2500万册,目前这种趋势还没有停下来的迹象,书商们预测它将继续成为2005年度的畅销书。正在筹划拍摄的电影版《达芬奇密码》应该还会带来更多的读者,该片将由曾获奥斯卡金奖的导演罗恩·霍华德执导。现在的消费者们大多都很在乎自己的口袋预算,可这本售价24.95美元的精装书卖得太好了,所以多布尔戴公司暂不打算推出平装本。
巴诺公司(美国最大的连锁书店)商品广告推销部副总裁鲍勃·威特拉克说:"两年来,这本书始终稳坐我们书店小说类排行榜的头把交椅,我记得这种盛况从未发生过。总是有人走进我们的书店,开口就问有没有这本书,或是和它类似的书。"
多亏了《达芬奇密码》,布朗以前的小说似乎成了唯一符合他们要求的书。布朗小说先前的出版商西蒙·舒斯特出版公司表示,2001年首次出版的《终极骗术》现在已经印到370万册。2000年出版的《天使与魔鬼》讲述的也是《达芬奇密码》里的主角罗伯特·兰登的故事,目前的印量已经超过800万册。
《达芬奇密码》的空前成功得益于广泛的销售渠道,这本书几乎随处可见,在沃尔玛、机场和超级市场里都可以买到,而且事实证明它总是比在同样的地方出售的针对大众市场的平装本更受欢迎。
《达芬奇密码》兴盛于文学小说和商业小说争斗不休的一个时期,时值经济紧缩时期,来自其他媒体的竞争和选举年带来的压力促使大众倒向非文学作品,或者根本就不看书。出版商和书商们认为布朗的小说成功地将今人激动的情节叙述和引起争议的历史细节结合起来。

(中国日报网站译)