US flexibility needed in North Korea nuclear talks
(Agencies)
Updated: 2005-03-11 09:37
US negotiators need flexibility if six-party talks are to remove nuclear weapons from North Korea, KEDO's executive director said.
"The six-party mechanism will need to find some greater flexibility than it now has, and I assume that greater flexibility will include more vigorous US bilateral role within the six-party talks -- not separate, but within," Charles Kartman said 10 years and one day after the founding of the Korean Peninsula Energy Development Organization.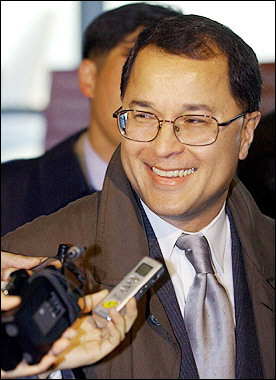 Charles Kartman, executive director of the Korean Peninsula Energy Development Organization (KEDO), seen here in 2003. [AFP/file]

"I think that the six-party talks will resume at some point," he said.

"There is a serious proposal on the table by the US," Kartman said.

He spoke at the US Institute of Peace, a Washington think-tank on international issues.

On Wednesday, US and South Korean officials made separate trips to Japan and Russia respectively to discuss reviving the six-way talks.

South Korean Foreign Minister Ban Ki-Moon urged Pyongyang repeatedly to return to talks involving the North Korea, South Korea, the United States, China, Russia and Japan.

The goal of ending North Korea's nuclear weapons drive gained urgency February 10 when Pyongyang said it had nuclear weapons and withdrew indefinitely from the talks, blaming a "hostile" US policy.

The country raised the stakes a week ago by saying it had ended a self-imposed 1999 moratorium on testing long-range missiles.

KEDO was formed in 1994 to end North Korea's prior threat to build a nuclear weapon. KEDO was tasked with building two light-water nuclear reactors in North Korea to provide electricity in exchange for Pyongyang's compliance in ending the its nuclear program.

Former US ambassador to North Korea Stephen Bosworth, who also addressed the meeting, said he was concerned US-South Korean relations could stymie the six-way talks.

"Is alliance maintenance something that we should be giving high priority to?

"Yes," he said answering his own question.

"If we're going to do serious consultation we have to be prepared to occasionally adjust our own views to take account of what we hear from other countries -- particularly our allies -- of their views.

"There is certainly no reason for despair about the state of US-South Korean relations, but there is reason for concern and my sense is that with constant effort we can continue to move in the right direction," the dean of Tufts University's Fletcher School of Law and Diplomacy said.




Today's Top News
Top World News

Farming sets goals to raise productivity




HK Chief Executive Tung offers to resign




Steps to narrow rich-poor gap needed




Peninsula likely to top Rice's first visit




Money talks in capturing drug suspect




Suicide bomber kills 47 at Iraq funeral