14 die in helicopter crash in Chechnya
(Agencies)
Updated: 2005-03-11 08:46
A Russian helicopter crashed in Chechnya Thursday, killing at least 14 Russian servicemen and seriously wounding two others, officials said.
According to preliminary information, the Mi-8 helicopter did not come under hostile fire and crashed after hitting a power line near the Chechen capital, Grozny, said Vladimir Gerasin, a spokesman for the regional branch of Russia's Emergency Situations Ministry.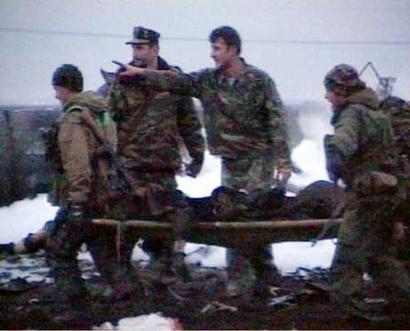 A TV grab shows Russian Interior Ministry soldiers carrying a victim of a military helicopter crash, south from Chechen capital of Grozny, March 10, 2005. The Mi-8 transport helicopter crashed possibly as a result of flying into power lines. [Reuters]

He said that 14 of 16 people on board died in the crash and two others were badly wounded. Earlier reports from the site said the helicopter carried 15 people.

Gerasin said the helicopter, which belonged to Russia's Interior Ministry, caught fire after slamming into the ground on the outskirts of Grozny.

Russia's Interfax and ITAR-Tass news agencies quoted other officials as saying the helicopter apparently belonged to the Border Guard Troops.

Russia's NTV television showed the gutted wreckage of the helicopter scattered over a field, surrounded by emergency rescue crews.

Russian forces battling rebels in Chechnya have lost a number of helicopters to ground fire, but many others crashed due to pilot errors or technical malfunctions.

Russia's Defense Ministry said earlier this month that the military has lost 15 aircraft and 22 pilots in action over Chechnya since 2001.

In Russia's worst military aviation catastrophe, an overcrowded Mi-26 heavy transport helicopter was shot down by a shoulder-fired missile as it prepared to land at a base near the Chechen capital in August 2002. Burning fuel gushed into the cabin, killing 127 of the 147 passengers.

Officials and media reports said that many other crashes of helicopters in Chechnya were caused by increasing wear-and-tear of Soviet-built aircraft left without proper maintenance because of the military's fund shortage. Harsh weather in the mountainous region has also contributed to the mounting losses of military aircraft.




Today's Top News
Top World News

Farming sets goals to raise productivity




HK Chief Executive Tung offers to resign




Steps to narrow rich-poor gap needed




Peninsula likely to top Rice's first visit




First private airline takes off today




Money talks in capturing drug suspect