Spain marks anniversary of March 11 train bombings
(Agencies)
Updated: 2005-03-11 08:38

The calendar finally returned to March 11 on Friday, forcing Spain to remember the traumatic Madrid train bombings which killed 191 people a year ago.

Church bells will ring at 7:37 a.m. (0137 EST) to mark the first of the 10 explosions aboard four commuter trains in Madrid, and the whole of Spain will pause for five minutes of silence at midday.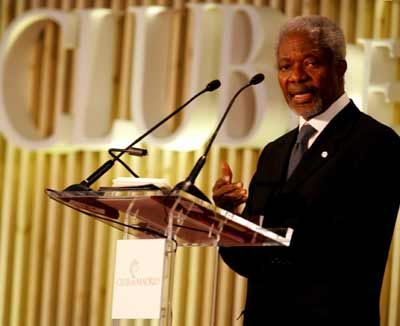 United Nations Secretary-General Kofi Annan delivers his speech at an International Summit on Democracy, Terrorism and Security in Madrid March 10, 2005. Annan said the world must seize a last chance to deny terrorists that intend to carry out a nuclear attack that could cause widespread death and hurl millions into poverty. [Reuters]

World leaders led by U.N. Secretary General Kofi Annan and hundreds of security experts gathered in Madrid to reflect on the attacks, carried out by Islamist militants three days before a general election.

Some 218 victims still require medical attention from wounds suffered in the blasts. In all 2,061 people were treated following what Spaniards call "our Sept. 11."

For others the scars are psychological, leading victims to leave the country or take the day off to avoid reminders.

Railway inspector Francisco Javier Zamarra said a colleague who witnessed the massacre from the train station platform was still shaken.

"He doesn't want to be here," Zamarra said from central Atocha station, which is always crowded with commuters at 7:37 on a weekday morning. "I'll try to overcome it, but we'll see. It's been tough for 365 days. This day in particular will be a hard one."

Police have enacted a special security plan to prevent a repeat attack, and Spain has hired an AWACS surveillance plane from NATO to patrol the skies.

Islamist militants -- mostly from Morocco and other North African countries -- claimed the attacks in the name of al Qaeda, describing them as revenge for Spain sending troops to Iraq and Afghanistan.

Seventy-five people have been arrested in the criminal investigation. Of those 25 remain in jail, 17 are under court supervision and 33 have been freed.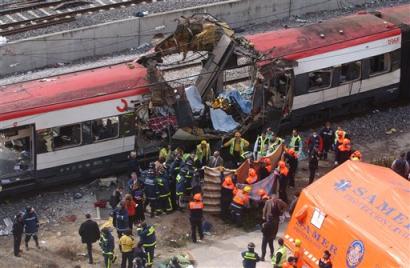 Rescue workers cover up bodies by a bomb damaged passenger train following a number of explosions on trains in Madrid, Spain, in this March 11, 2004 file photo. [AP/file]

The bombings rocked Spain just as it was preparing to vote, and angry crowds gathered outside offices of the ruling Popular Party the day before the March 14 election.

The next day voters gave the Socialist party victory, in an upset that political analysts attributed in part to the way the government had at first wrongly blamed the Basque separatist group ETA for the bombing.

The attacks also reminded voters of the government's unpopular decision to send troops to Iraq.

Socialist Prime Minister Jose Luis Rodriguez Zapatero ordered the troops home immediately after taking office.

Spain muslims issue fatwa against Bin Laden

Muslim clerics in Spain issued what they called the world's first fatwa, or Islamic edict, against Osama bin Laden on Thursday, the first anniversary of the Madrid train bombings, calling him an apostate and urging others of their faith to denounce the al-Qaida leader.

The ruling was issued by the Islamic Commission of Spain, the main body representing the country's 1 million-member Muslim community. The commission represents 200 or so mostly Sunni mosques, or about 70 percent of all mosques in Spain.

The March 11, 2004, train bombings killed 191 people and were claimed in videotapes by militants who said they had acted on al-Qaida's behalf in revenge for Spain's troop deployment in Iraq.

The commission's secretary general, Mansur Escudero, said the group had consulted with Muslim leaders in other countries, such as Morocco ¡ª home to most of the jailed suspects in the bombings ¡ª Algeria and Libya, and had their support.

"They agree," Escudero said, referring to the Muslim leaders in the three North African countries. "What I want is that they say so publicly."

The fatwa said that according to the Quran "the terrorist acts of Osama bin Laden and his organization al-Qaida ... are totally banned and must be roundly condemned as part of Islam."

It added: "Inasmuch as Osama bin Laden and his organization defend terrorism as legal and try to base it on the Quran ... they are committing the crime of 'istihlal' and thus become apostates that should not be considered Muslims or treated as such." The Arabic term 'istihlal' refers to the act of making up one's own laws.

Escudero said a fatwa can be issued by any Muslim leader who leads prayer sessions and as he serves such a role, he himself lawfully issued the edict.

He called it an unprecedented condemnation of bin Laden. "We felt now we had the responsibility and obligation to make this declaration," he said in an interview.

"I hope there is a positive reaction from Muslims," he added.

Asked if the edict meant Muslims had to help police try to arrest the world's most wanted man ¡ª who is believed to be hiding along the border between Pakistan and Afghanistan ¡ª Escudero said: "We don't get involved in police affairs but we do feel that all Muslims are obliged to ... keep anyone from doing unjustified damage to other people."




Today's Top News
Top World News

Farming sets goals to raise productivity




HK Chief Executive Tung offers to resign




Steps to narrow rich-poor gap needed




Peninsula likely to top Rice's first visit




Money talks in capturing drug suspect




Suicide bomber kills 47 at Iraq funeral