HK Chief Executive Tung offers to resign
(China Daily)
Updated: 2005-03-11 01:54
HONG KONG: Chief Executive Tung Chee-hwa announced yesterday that he has officially submitted his resignation to Beijing citing health problems.
At a press conference in Hong Kong, Tung, two years into his second term in office, said he had tendered his resignation just one hour before making his decision public.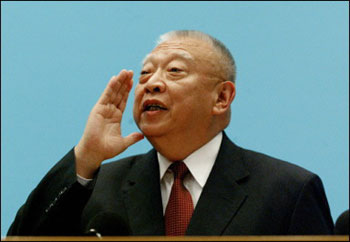 Hong Kong Chief Executive Tung chee-hwa gestures during a press conference at the Central Government Offices (CGO) building in Hong Kong, 10 March 2005 announcing his resignation. Hong Kong's leader Tung Chee-hwa submitted his resignation March 10, citing health reasons for stepping down early. [AFP]


"My health was obviously not as good as it used to be because of long- time hard work," said Tung.

Chief Secretary for Administration, Donald Tsang, will take over as acting chief executive until a new appointment is made later in the year.

Tung will be in Beijing Friday to attend the third session of the 10th National Committee of the Chinese People's Political Consultative Conference (CPPCC) until it wraps up tomorrow.

At the news conference, Tung stressed that for the overall interests of the Hong Kong Special Administrative Region and the nation, he had decided to submit his resignation .

He expects the central government to consider and accept his request.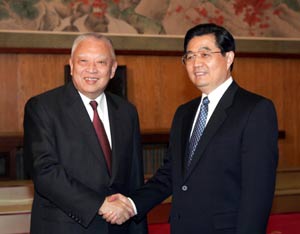 President Hu Jintao (R) meets with Tung Chee Hwa in Beijing March 5, 2005.[Xinhua]

Tung stressed that it had been a lifetime pleasure for him to render service for the nation and Hong Kong in the post of chief executive.

He thanked Hong Kong's citizens for the opportunities they had given and central government for the trust they placed in him during his term of office.

Tung, 67, was elected as the first chief executive of the Hong Kong Special Administrative Region in December 1996, and re-elected for a second term in February 2002.

He was inducted as a member of the 10th National Committee of the CPPCC on February 28, 2005.




Today's Top News
Top China News

Farming sets goals to raise productivity




HK Chief Executive Tung offers to resign




Steps to narrow rich-poor gap needed




Peninsula likely to top Rice's first visit




Money talks in capturing drug suspect




Suicide bomber kills 47 at Iraq funeral