First private airline starts maiden flight
By Cao Desheng (China Daily)
Updated: 2005-03-11 01:54
China's first private airline started its maiden flight Friday, a landmark move that broke the government monopoly in the civil aviation sector.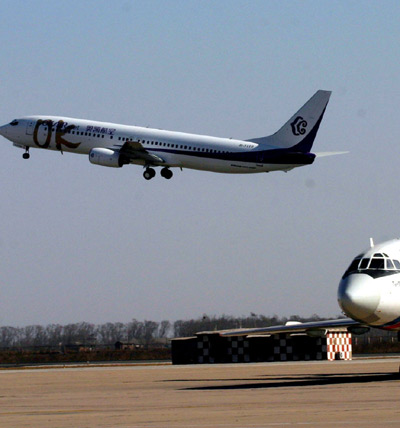 The first passenger flight of Okay Airways takes off at 9:00am from Binhai International Airport in Tianjin March 11, 2005. [newsphoto]
The first passenger flight of Okay Airways took off at 9:00am from Binhai International Airport in Tianjin - where it is based - then fly to Changsha in Central China en route for Kunming in Southwest China's Yunnan Province.
The aircraft being used is a 189-seat Boeing 737-900 leased from Korea Airlines.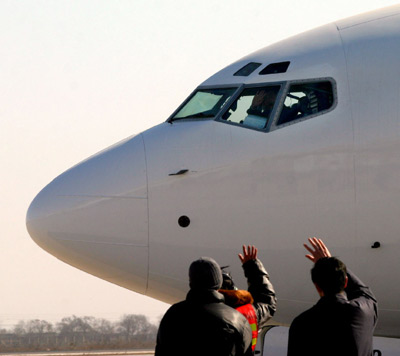 Staff of the ground service waves goodbye to the pilot. [newsphoto]
Sui Guangming, the new company's executive president, acted as captain on the first flight.
The firm planned to begin operating last Saturday but was unable to do so as the necessary paperwork from the General Administration of Civil Aviation of China (CAAC) was late arriving, said the company's president Liu Jieyin.
A ticket between Tianjin and Kunming on the first flight is 680 yuan (US$82) after a 40 per cent discount, a Tianjin-based travel agency told China Daily.
The ticket price for the trip between Tianjin and Changsha is usually 1,180 yuan (US$143), but just 710 yuan (US$86) on the first flight, the agency added.
The route is only operated by Okay Airways.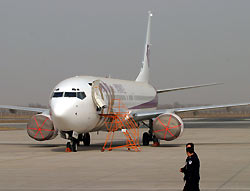 Ground service check the Boeing 737-900 of Okay Airways on March 10, 2005. [newsphoto]
The airline, funded by private investors from Beijing and Shenzhen in South China's Guangdong Province, has a registered capital of 300 million yuan (US$36 million).
It is committed to a low-cost strategy to engage in air cargo and express services plus passenger charter and ground distribution services.
The CAAC has also given the nod to three other private investors to set up airlines.
They are the Shanghai-based Spring International Airlines, the Chengdu-based Eagle Airlines and Huaxia Airlines in Gansu Province. It has been reported that Eagle Airlines will begin operating in June.
All three are said to be planning on having low costs to build a budget airline.
Okay Airways is taking off two weeks after the State Council released a new policy paper on "encouraging, supporting and guiding the development of the non-State sector."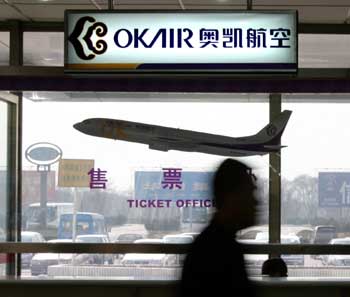 A man walks past a ticket office of Okay Airways, China's first private airline, at Tianjin Binhai International Airport March 10, 2005. The airline's maiden flight, from Tianjin to Kunming with a stopover in Changsha, is scheduled for March 11. [newsphoto]
Market competition will be further introduced in previously State monopolized sectors such as power supplies, telecommunications, railways, civil aviation and petroleum, the document said.
The document lowers the threshold for private businesses to enter sectors the State previously monopolized and grants them equal status to obtain financial resources.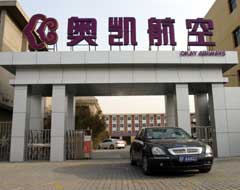 A car drives out of the headquarters of Okay Airways, China's first private airline, in Tianjin March 10, 2005. [newsphoto]

It also promises to provide private businesses with comprehensive services and protect their legal rights and interests.

Insiders hailed the document as the nation's policy support for private businwesses, especially concerning market access and financing.

The growth of private businesses is still being held back after two decades of market-orientated reform.

The new airlines will face challenges from international counterparts as some foreign low-cost carriers have an eye on China's aviation sector.




Today's Top News
Top China News

Tung Chee-hwa resigns as HK chief executive




Steps to narrow rich-poor gap needed




Money talks in capturing drug suspect




Farming sets goals to raise productivity




Peninsula likely to top Rice's first visit




Suicide bomber kills 47 at Iraq funeral