Reform changes farmers' lives
By Wang Shanshan (China Daily)
Updated: 2005-03-11 01:54
What is a typical Chinese farmer like? Someone bending down low in the fields, sweating in the scorching sun, with a white towel bound around his forehead if he lives in the central plains of the country?
A farmer in East China's Jiangjiagang Village would shake his head at such a picture, speeding through the fields in his Mercedes-Benz.
Three airlines have set up offices in the village with a population of 4,000, at Qidu Town, Wujiang in Jiangsu Province, as the "farmers" jet around the country selling optical fibres produced by their jointly-owned enterprise.
"Rice fields in the village are all rented to migrants from the northern part of Jiangsu. A capable local man can have a house built within two years by selling optical fibres, so why should we labour in the fields?" said Wang Junping, a villager who is following the latest local fashion of re-building the roof of his three-storey house into something of a Goethe style.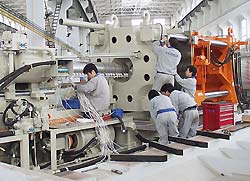 Young workers on the production line of a Ningbo-based enterprise. Many farmers from economically developed eastern areas no longer toil in the fields. [newsphoto]


A family of migrant farmers usually rents the rice fields of 10 or more local families, to whom they provide all the grain they need in lieu of rent. The local "farmers" only care for their small patches of vegetable fields, said Wang.

The millionaire villagers may be extreme cases among the 768 million farmers in various parts of China, but their tales show how living standards vary, according to He Yupeng, a researcher at the Rural Economy Research Institute of the Ministry of Agriculture.

"The rich-poor gap between farmers in the east and west has been expanding in the past few years, and the trend is probably to continue in the next decade at least," he added.

The richest farmers live in rural areas of Shanghai and Beijing, and in the eastern Zhejiang and Jiangsu provinces, while the poorest are found in southwest Guizhou Province and the northwest provinces of Gansu and Shaanxi.

Zhang Hongsheng, who plants vegetables, grapes and watermelons in the Daxing District of Beijing, said his family earned more than 20,000 yuan (US$2,400) last year by selling his produce in urban areas and even to Japan.

An urbanite by residency registration, Zhang married a rural woman during the "cultural revolution" (1966-76) and has stayed there ever since. He said the life of a successful farmer like himself is better than that of a mediocre factory worker in the city.

But the farmer has his worries. A property developer has recently bought, with government approval, land at a nearby village. It will compensate local farmers with a lump-sum, and Zhang is afraid that he may lose his land one day.

But Wang Latian of Yangjia Village in Meixian County, Baoji of Northwest China's Shaanxi Province has little to worry about.

Wang is one of the richest in his village - in 2003 he swung his hoe onto the ground and a cave appeared with three-millennia-old bronzes in it. He and his four companions informed the authorities and were each awarded 10,000 yuan (US$1,200).

Wang pledged that he would treat his family to a meat feast when he got the money. The villagers usually only have meat twice a year.

"A meal with meat costs two days' living expenses for my child, and the child needs new clothes and will go to school in a few years - how can we swallow the meat bearing all this in mind?" a farmer from Wang's county told researchers at the Chinese Academy of Social Sciences.

His family earned about 1,500 yuan (US$181) by planting wheat and beans in 2003, which constituted a quarter of the family's income that year, while meat fetched 12 yuan (US$1.50) per kilogram.

The rest of the family's income came from the farmer's part-time job as a welder.

Yang Weixing, 62, concluded that a rural family couldn't depend solely on farming to have a decent life.

A farmer from Yangjiawan Village of Xiangxiang in Central China's Hunan Province rents his land to one of the few young men in the village and lives mainly on money from his son working in Beijing.

"The young people have all left for cities and only the old and children stay back. I wish to see in my life that one day the whole family will live together and lead a well-to-do life on our old land," he said.

(China Daily 03/11/2005 page3)




Today's Top News
Top China News

Farming sets goals to raise productivity




HK Chief Executive Tung offers to resign




Steps to narrow rich-poor gap needed




Peninsula likely to top Rice's first visit




Money talks in capturing drug suspect




Suicide bomber kills 47 at Iraq funeral