Ex-World leaders urge UN to define terror
(Agencies)
Updated: 2005-03-10 21:23
Former world leaders appealed to the United Nations on Thursday to come up with a definition of terrorism, arguing that political aims should never be used as an excuse to kill innocent civilians.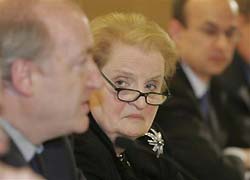 Former United States Secretary of State Madeleine Albright listens to France's former Foreign Minister Hubert Vedrine, left, speaking on the future of trans-Atlantic relations during a work meeting of the International Summit on Democracy, Terrorism and Security Wednesday, March 9 2005, in Madrid, Spain. [Reuters]

The issue of a definition has long been one of the most delicate, in part because governments often use violence to accomplish goals. But delegates to a four-day conference here on terrorism suggested that drawing up a simple concept with international consensus would be the first step in averting more attacks.

"There is no cause under the sun that could justify the deliberate killing of civilians," said Anand Panyarachun, former prime minister of Thailand. "The killing of civilians is unjustified under any circumstance."

The United Nations has long struggled with this issue, lacking agreement on just what constitutes terrorism. Some states want one to exempt "freedom fighters," while others insist any definition must cover governments and their soldiers.

The Palestinian-Israeli conflict typifies the dilemma in coming up with a definition. The Palestinians have argued, for example, they are justified in resisting Israel's military occupation by using suicide bombs against civilians while the Israelis say such tactics are unacceptable.

However, delegates insist that having a common understanding on what terrorism is would permit the United Nations and other world bodies to fight it jointly and help create laws that would allow for prosecution of the perpetrators.

During a panel debate, Amre Moussa, secretary-general of the League of Arab States, did not argue against creating a definition, as long as the United Nations was involved. But he stressed that counterterrorism efforts should focus more on the causes of extremist violence.

"The issue is not that simple," he said.

The discussion came only hours before U.N. Secretary-General Kofi Annan was set to deliver a key policy speech before dozens of terrorism experts and former world leaders.

Annan's address is expected to be the highlight of the session, which was timed to commemorate the one-year anniversary of the Madrid train bombings. The attack, believed to have been carried out by Islamic extremists, killed 191 people and injured more than 1,500.

"We live in one world and the issue of terrorism affects us all," Annan said after meeting Spain's prime minister. "When the people of Madrid are hit or people in New York are hit, it does have an effect on all of us."

Annan said he wanted to express solidarity with the victims of the Madrid attack and to affirm the United Nation's determination to work with governments and people around the world to try to prevent such bloodshed.

He and other world leaders and experts attending the summit here on democracy, terrorism and security are grappling with ways to combat violence without jeopardizing human rights.

The experts have begun offering their recommendations ahead of Friday's final session. In one key area ¡ª financing terrorism ¡ª experts urged world leaders to create an international institution under U.N. auspices to track the elusive methods terrorists use to raise money.

The draft recommendation said measures undertaken so far to curb terrorist financing were insufficient to cut the flow of funds to al-Qaida and other international terrorist groups.

Foreign policy experts warned that nations must join together to fight terrorism ¡ª rather than letting differences of opinion weaken their resolve. As a first step, the United Nations must step forward to take the lead, delegates said.




Today's Top News
Top World News

Farming sets goals to raise productivity




HK Chief Executive Tung offers to resign




Steps to narrow rich-poor gap needed




Peninsula likely to top Rice's first visit




First private airline takes off today




Money talks in capturing drug suspect